World news story
Embassy Supports Rugby Outreach
Rugby outreach in rural areas of Laos to celebrate the London 2012 Olympic Legacy and introduce a new sport for the Rio 2016 Olympic Games.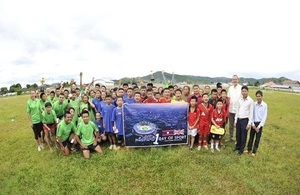 As part of the British Embassy Vientiane's 'One Day of Sport' series, the British Embassy supported the Lao Rugby Federation's outreach activities in Xieng Khouang province, taking rugby sevens – a new Olympic sport for 2016 - to a new audience. The Lao Rugby Federation is a member of the Lao Ministry of Education and Sport, a full member of the Asian Rugby Football Union, and an associate member of the International Rugby Board. The LRF governs all the rugby union activities in Laos including youth and schools rugby in Vientiane and Xieng Khouang province, men's and women's club teams, and men's and women's national sides competing in tournaments around Asia.
The LRF has been working in partnership with ChildFund Laos for the past year to deliver sport for development activities in one of the poorest districts in Xieng Khouang. The work in Xieng Khouang sees Lao Rugby coaches from Vientiane visit the project once a month and work with youth leaders in the project communities to teach rugby and build their capacities as coaches and players. The outreach in Phonesavanh saw these youth leaders travel 4 hours to the capital city for 2 days of intensive coaching training. As an end result, Ambassador Philip Malone attended an afternoon of coaching clinics with a showcase match between the coaches. Athletes from the Phonesavanh Ministry of Sport and Education and four area secondary schools came out to learn a new sport that will feature in the 2016 Olympics for the first time, and celebrate the power of sport to bring people together.
Ambassador Philip Malone commented:
These coaches come from one of the poorest districts of Laos and are showing their leadership skills and bridging gaps with communities of different ethnicities and economic means. Sport provides opportunities to bring people together and that is what the 2012 Olympic and Paralympics in London were all about and what we are working to showcase in the Embassy's 'One Day of Sport' London 2012 legacy series.
For more about the Lao Rugby Federation visit www.laorugby.com and for more photos from the event visit the UK in Laos' Facebook page.
Published 16 September 2013