World news story
British High Commission Ghana marks International Day for Eradication of Poverty.
British High Commission celebrated 8 years of alleviating poverty in Ghana through the Livelihood Empowerment against Poverty programme.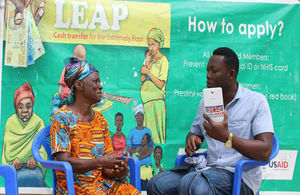 Up to 250,000 households are projected to benefit from the Livelihood Empowerment against Poverty (LEAP) programme by 2016 in Ghana per the target set out by the government of Ghana (GoG). This would be a significant increase from the 76,000 households the programme was reaching in 2013. Inequality however is still of grave concern, given that the proportion of Ghanaians living in poverty stands at 24.2 percent. With a continued downward trend from 31.9 percent in 2005/6, the current intervention strategy, it seems would be considered only as a dent on the huge problem of poverty across the country.
LEAP is a national cash transfer programme established by GoG in 2008. It provides cash grants to the poorest and most vulnerable households, with a particular emphasis on households with orphans, vulnerable children, elderly (above 65 years) and persons with disabilities. In 2016, the programme added a fourth social category for poor pregnant women and children.
LEAP is supported by the UK Department for International Development (DFID) Ghana (largest donor), World Bank and UNICEF. DFID and the World Bank co-finance the cash grants along with the Government of Ghana. The two organisations also provide the technical and financial support to strengthen systems (eg. transitioning to electronic payments) and build capacity. UNICEF's support has focused on strengthening key elements of the programme to improve its efficiency, effectiveness and reach.
A beneficiary household receives GH¢ 32.00 per month. Those with two eligible members receive GH¢ 38.00 per month, households with three eligible beneficiaries receive GH¢ 44.00, per month and households with four eligible beneficiaries and above receive GH¢ 53.00 per month.
In an effort to minimise the fiduciary risks, the programme transitioned to an electronic payment system in 2016; this approach includes biometric verification to facilitate payment to LEAP beneficiaries. LEAP is having a tremendous impact on the lives of beneficiaries; improving household consumption and nutrition; improving access to health care services; increasing basic school enrolment, attendance and retention; and facilitating access to complementary services, according to the last impact evaluation report.
The programme has been able to make the following impacts:
An increase in beneficiaries supplying their own labour to the farm.

A 10.8 percentage point increase in likelihood of beneficiaries having savings.

Enrollment in secondary school of children aged 13–17 increased by 7 percentage points.
Reduced grade repetition among both primary-aged children (11 percentage points) and secondary-aged children (10 percentage points).
Children aged 6–17 were 5 per cent less likely to be ill though those aged 0-5 more likely.
An increased number of beneficiaries seeking preventive care, especially young girls aged 0–5, but no increase in those seeking curative care.
During a recent field visit to the Ashanti region as part of the annual review of the programme, we interviewed some beneficiaries.
Florence Adu Twum of Nhyiaso, expressed her experience of the LEAP programme and how it has positively impacted on her family. Having been a beneficiary for 4 years, she has been able to care for her four other siblings after losing both of her parents.
Another beneficiary, Akua Dansoa, expressed her sincere, heartfelt gratitude for the programme. A widow with three children and a care giver of two aged persons, she receives a sum of GH¢ 76 every two months.
She said:
My husband died at a very early stage in the lives of my children and we were going through severe difficulties. We could not afford a daily meal. The programme has helped us to put all these sufferings behind us.
Akua uses the additional grant to trade in kenkey and fish to support her family.
Diana Bioh also exemplifies how the LEAP programme helps in supporting households. Diana's husband died, leaving behind four young children with no means of financial support. The children were expelled from school on several occasions because she could not afford to pay for tuition. Diana was introduced to the LEAP programme and has since been able to support her children, paying for their school fees in addition to helping her grow and sustain her business as a trader. Diana's eldest child has completed the University of Cape Coast and is undertaking her National Service. Her second child is in Senior High School (form 2) and her youngest children, twins, attend their local primary school.
Diana said :
I am grateful to the UKAid and Ghana Government for supporting the LEAP Programme.
LEAP's increasing access to approximately 150,000 households puts Ghana on the road to achieving the levels of poverty reduction envisaged by the global goals for sustainable development.
Published 18 October 2016