Eid ul Fitr 2011: Deputy Prime Minister message
Deputy Prime Minister Nick Clegg has wished Muslims across the UK and across the world Eid Mubarak on the occasion on Eid.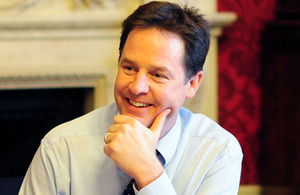 Deputy Prime Minister's Message for Eid
Mr Clegg said Eid is a time for families and friends and for celebrating the huge contribution Muslims make to British life through business, culture and public service.
The Deputy PM said:
I would like to wish Muslims across the country, and indeed across the world, Eid Mubarak on the occasion of Eid ul-Fitr.
Muslims make a huge contribution to British society - in business, in public service, and in enriching our culture too.
And the spirit of Ramadan and Eid hold messages about family and charity from which all of us should learn.
I wish you the best for the prayers and celebrations of the coming days. Once again, Eid Mubarak.
Published 30 August 2011