News story
Edinburgh's military tattoo heads down under
The Royal Edinburgh Military Tattoo will take place in Australia and New Zealand in February 2016.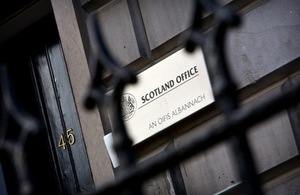 The Tattoo is a major fixture in the global events calendar providing upwards of £100m into the UK economy every year. Last year marked the Tattoo's sixteenth successive sell-out season at Edinburgh Castle, generating approximately £10 million in box office receipts.
The news that the Tattoo will be on the road next year has already received an overwhelmingly positive reaction in Australia and New Zealand. Ticket sales for Melbourne and Wellington are already breaking expected targets, with 50% of tickets sold in the first week and an additional Melbourne show announced yesterday. These two offshore Tattoos are expected to draw millions into their respective local economies.
Brigadier David Allfrey MBE, Chief Executive and Producer, The Royal Edinburgh Military Tattoo said:
The Tattoo provides a wonderful excuse for people to come together for an enjoyable and inspirational evening and to reflect on where their interests and influence might coincide. We are so proud to play our part in these international endeavours.

Our project to take the Tattoo to Wellington and Melbourne has been more than three years in the planning. It has involved a huge number of partners across all three countries, never mind in those nations getting ready to contribute to the Show. It is, however, a much wider story than us doing a show. The Tattoo's integrated approach provides our wide ranging stakeholders with an exciting, high profile platform which can deliver a plethora of interesting and beneficial opportunities.
Scottish Secretary David Mundell said:
The UK enjoys a very close international relationship with Australia and New Zealand across a wide range of areas including an extraordinary shared heritage in culture, history and military alliance. The Royal Edinburgh Military Tattoo overseas programme represents an exciting platform in this rich relationship.

It brings together a unique blend of music, ceremony and entertainment that showcases a stunning array of Scottish heritage & culture and the precision and expertise of the British Military combined with a colourful mix military and cultural groups from around the world.
Cabinet Secretary for Culture, Europe and External Affairs, Fiona Hyslop said:
This is great news for The Royal Edinburgh Military Tattoo and for Scotland. The Tattoo is a firm favourite in Edinburgh's world famous festivals and I am sure the Australian and New Zealand audiences will be delighted by the unique blend of music and entertainment that only The Royal Edinburgh Military Tattoo can provide. The Royal Edinburgh Military Tattoo is a world renowned Scottish brand and reaching out to people who are interested in Scotland and our heritage is important to tourism and our image overseas.
Kerry Prendergast, Executive Chair, New Zealand Festival, said:
The New Zealand Festival and the Tattoo, with the support of the New Zealand government, sought to bring this iconic event back to Wellington because we were sure Kiwis would come out in force to support it. We're thrilled that audiences have responded so enthusiastically, and can't wait to welcome the Tattoo to what's on track to be a sell-out season in Wellington.
The Right Honourable, the Lord Mayor of Melbourne, Robert Doyle said:
If I had to name one world event that I wanted to attract to Melbourne it would be The Royal Edinburgh Military Tattoo and we are delighted to be hosting it for the first time in 2016. Melbourne is renowned for our world-class events calendar and I'm delighted that Melburnians have embraced the event and that it will have major flow-on effect for our tourism industry.
Published 2 June 2015