News story
East Village springs to life as Olympic Park opens up
Twenty-five acres of new parks, play space and wetlands are now open at the former Olympic and Paralympic Village for everyone to enjoy.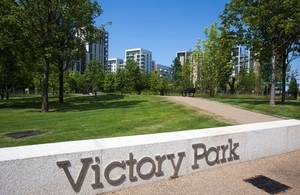 With Queen Elizabeth Olympic Park re-opening in full this weekend, London's former Olympic Village, now known as East Village, has also opened up its 25 acres of new parks and wetlands fully for the first time for both residents and visitors to enjoy including:
Victory Park & Belvedere play area - Victory Park sits in the heart of East Village, acting as a 'green lung' for the neighbourhood. It includes grass areas, benches and tree-lined paths as well as the 'Belvedere' seating and children's play area. Victory Park also includes a unique new piece of artwork by Danish artist Jeppe Hein. Taking the Olympic Rings as inspiration, Mirror Labyrinth is formed of multiple mirrored steel columns arranged in concentric circles, encouraging visitors to step inside the maze and enjoy the many reflections that play out across the mirrored surfaces.
Mirabelle Gardens - inspired by London's famous squares, Mirabelle Gardens is East Village's traditional garden square offering a secluded spot for residents and visitors to relax. The gardens contain a community orchard, planted with apple, pear and plum trees.
The Waterglades wetlands - the 2.5 hectare wetlands area includes lawns, paths and picnic areas, offering residents a place to enjoy a relaxing walk and get close to nature. Containing over 43 varieties of wetland and wild flower plants, in excess of 600 trees, and a range of wildlife areas, they offer a direct link from East Village to Queen Elizabeth Olympic Park and its parklands and world class sporting venues. The Waterglades wetlands area, together with the adjoining wet woodlands in Queen Elizabeth Olympic Park, forms one of the largest man-made areas of this rare habitat in the UK.
There are four play areas for children, hundreds of benches on which to rest and relax, five types of flowering lawns which include daisies, clover and buttercups, picnic lawns, marshy grassland and dry woodland, and 2,400 semi-mature trees, including London Plane trees at 10-12m high.
As well as providing extensive recreational space, the open spaces at East Village have been planned to provide wide-ranging environmental benefits.
The Waterglades wetlands area cleans and treats water that runs off from the public areas and roofs in East Village. It is then re-used to provide water to the landscaped areas across East Village, the central courtyards within the residential plots, and also for toilet flushing in Chobham Academy.
The wetlands are also now home to a variety of wildlife including bats, songbirds, frogs and reptiles who are making this peaceful area their new home. There are 150 ecology installations throughout East Village ranging from bird and bat boxes to deadwood areas for invertebrates and bee boxes to encourage bees in the orchard.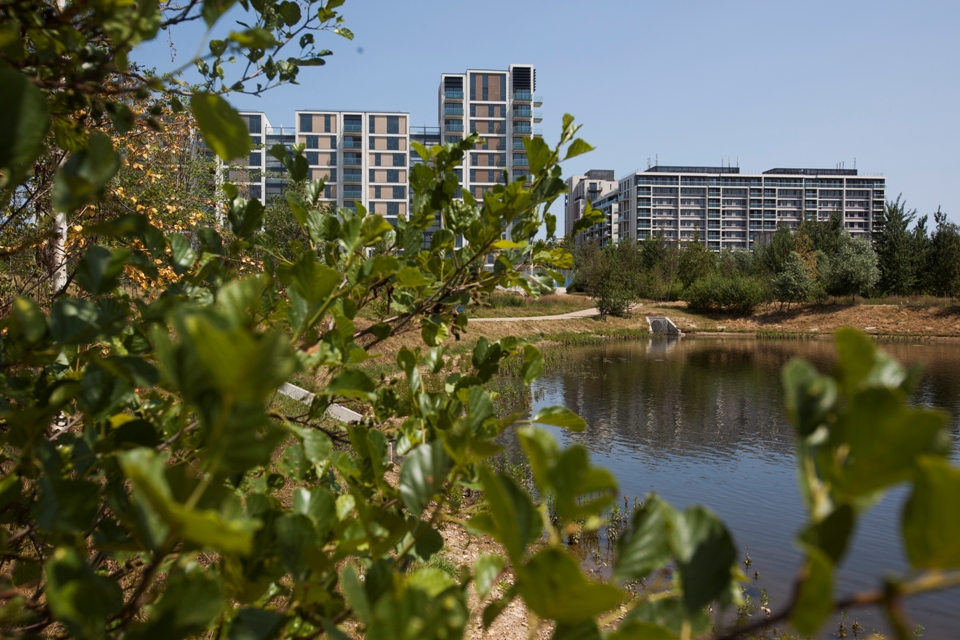 ODA Chairman Sir John Armitt said:
"The new open space at East Village is world-class and residents and visitors alike will be hugely impressed by the gardens and landscaping. Now that the Olympic Park is re-opening, thousands of people will get a chance to see how this entire area has been transformed for generations to come to use and enjoy – walking, relaxing, seeing the sights, or having a picnic, as well as playing and watching sport in four world-class venues.
"This, and the work we are doing to complete 2,818 new homes in East Village, is proof that the legacy we all talked so much about is very real."
A new video unveiled this week shows how the former Olympic Village has been transformed into East Village - London's newest neighbourhood, which was recently voted 'Best New Place to Live' at the London Planning Awards.
The first residents began moving in last November and there are now more than 800 residents calling East Village 'home'. A management office at 5 Celebration Avenue in East Village is open for people to come and find out more about the new homes Get Living London and Triathlon Homes have available, from private rented apartments with Get Living London, to shared ownership, social and intermediate rent with Triathlon Homes. People can also find out more information and register their interest at www.eastvillagelondon.co.uk
Published 4 April 2014