World news story
Early Burns Night reception and whisky tasting event in Greece
Scottish food and drink products showcased at a traditional Scottish celebration.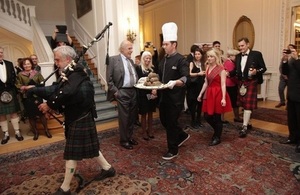 Burns Night (25 January) is the focal point for celebrating Scottish culture, literature, traditions and history, as well as an excellent opportunity to showcase Scottish food and drink products.
The early Burns Night reception organised by the British Embassy in Athens and UK Trade and Investment (UKTI) Greece on Thursday 21 January 2016 was a networking event that incorporated aspects of the traditional Burns Supper celebration. Its aim was to:
promote Scottish industries and businesses in Greece, particularly in the food and drink sector, raise Scotland's profile in Greece by showcasing Scottish culture to Greek audience and promote culture, tourism and education

facilitate contact-building across influential networks of Scottish-related businesses and figures in Greece demonstrate that the Embassy and UKTI Greece are actively seeking to promote and serve the diplomatic and commercial interests of all parts of the UK
Welcoming guests to the British Residence, HMA John Kittmer noted:
Testament to the legacy of the man himself (Robert Burns), we're delighted to have the chance tonight to showcase some Scottish cultural highlights to our Embassy contacts and friends - whether Scottish individuals or businesses established in Greece, or Greeks who are connected to Scotland by family, university or a more general affinity.
Indeed, we might expect to find in this city a particular connection with Scotland – whose capital we call Athens of the North."
Among the guests present on the night were representatives of Greek companies & businesses importing or considering importing Scottish products, opinion formers in Greece with ties to Scotland, Greeks based in Scotland and Scots working in Greece and representatives of Scottish Universities and alumni ambassadors.
Major Scottish exports and opportunities in Greece
Whisky remains one of Scotland's top exports to Greece. According to the Scotch Whisky Association the value of Whisky exports to Greece in the year to December 2014 was £43.5 million

Scottish farmed Salmon is Scotland's largest food export. Total salmon exports reached an all time high of £494 million in 2014

Greece remains among the largest markets for quality spirits and high end food and drink products in general
The Glenlivet whisky tasting experience
During the reception guests had the opportunity to participate in a tasting of The Glenlivet classic range of single-malt whiskeys, including:
The Glenlivet Founder's Reserve

The Glenlivet 15 Years Old French Oak Reserve

The Glenlivet 18 Years Old Reserve
Since its establishment in the early nineteenth century, The Glenlivet has become one of the best in its category.
Assistance to UK exporters
UKTI Greece provides on-going support to UK brands already active in Greece as well as to UK companies wishing to expand their business in the country.
For specific food and drink sector enquiries please contact:
Caterina Drossopoulou
Email: caterina.drossopoulou@fco.gov.uk
Tel.: +30 210 7272744

Published 25 January 2016