Press release
Durham farmer illegally spread waste on his land
A farmer from Durham has been successfully prosecuted by the Environment Agency for spreading illegal waste on his land.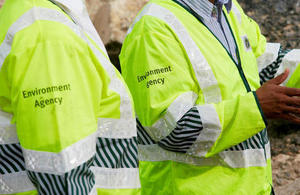 Liquid from a landfill site was illegally spread on a farmer's fields because he failed to check paperwork.
Darlington magistrates heard that an Environment Agency investigation showed Iain Bainbridge accepted 26 tonnes of waste which should not have been used for land spreading on his farm.
The company which delivered the waste, John Warren (Animal By Products) Ltd, should have also checked that Bainbridge was legally allowed to accept it.
Mr Bainbridge, 29, of Hill Top Farm, Winston, County Durham, and waste carrier John Warren (Animal By Products) Ltd, of Eden Hall, Hamsterley, Bishop Auckland, both previously pleaded guilty to one charge against environmental permitting regulations.
They both appeared before the court for sentencing on Wednesday, January 20.
Mr Bainbridge was fined £375, ordered to pay £5,000 costs and a victim impact charge of £37, while the waste carrier company was fined £1,500, ordered to pay costs of £5,000 and a victim impact charge of £150. The offences date back to 2012.
The court was told that Bainbridge did have a permit to spread waste on his land as fertiliser, but checks by Environment Agency officers revealed the type of wastes he had accepted did not match those on his permit.
He later admitted that the material had been spread on fields used to produce animal feed but there had been no process in place for checking what waste was being received. He told Environment Agency officers that there was now a manager running the waste side of the business and someone to check delivery vehicles as they came in.
Mr Bainbridge employed an environmental consultant who confirmed there had been no environmental harm caused by the unlawful spreading.
Records showed that more than 10 loads of wash water had been delivered to him by John Warren (Animal By Products) Ltd. The wash water had been stored in settlement tanks at the premises of the company.
On one occasion an Environment Agency officer had seen the contents of a settlement tank in which wash water was stored. He described the contents as a liquid, dark red in colour, which contained fats and maggots.
Representatives from that company admitted their procedure for describing waste material was "not fit for purpose" and that they should not have delivered it to Bainbridge's farm.
They said a new procedure was now in place to avoid this situation happening again.
After the hearing, the Environment Agency's John Crowl said:
Our permits are put in place to ensure that the environment is protected and it is the responsibility of those who handle and manage waste to ensure that it is described and dealt with correctly, or they could face prosecution.

I'm pleased this has now been finalised by the court with total fines and costs payable amounting to more than £12,000.

Both defendants have now put new procedures in place to reduce the risk of it happening again so this should act as a warning for others to ensure they abide by the terms of their permits.
Published 21 January 2016