News story
Dunlop meets veterans at great grandfather's charity of choice
Scotland Office Minister Andrew Dunlop today paid a visit to the Erskine Care Home in Bishopton, a charity given start-up funding in 1916 by his own great grandfather.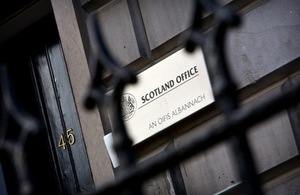 Lord Dunlop took the opportunity to discover more about the difficult issues faced by many members of the armed forces community returning from conflict and readjusting to life back home.
As well as being Lord Dunlop's great grandfather, Sir Thomas Dunlop Bt was a noted wartime leader and Provost of the City of Glasgow who organised fundraising of over £200,000 for what was then known as the Princess Louise Scottish Hospital for Limbless Sailors and Soldiers. The charity has since grown and strengthened, giving first class care to ex-servicemen and women within its four homes across Scotland and has cared for 1,100 veterans in the last year alone.
Erskine Chief Executive Steve Conway said:
I am delighted to welcome Lord Dunlop to Erskine especially because his great grandfather Sir Thomas Dunlop Bt was instrumental in the proposal to establish the hospital and its early management when he was Lord Provost of Glasgow. We will discuss the formation of the hospital but also the current service delivery to veterans and their spouses.
Andrew Dunlop said:
The Armed Forces Community deserves our strong support, and we want to make sure that help is available to those that need it, whether that be in the form of statutory entitlement, for example, to health and housing, or additional help or advice that can be provided by the voluntary and community sector. The UK Government is a fundamental member of the Armed Forces Covenant, an initiative that sets out the moral obligation of society towards members of the armed forces community. I am immensely proud that my great grandfather chose to support such a wonderful charity as Erskine in its early stages and very pleased to visit the veterans and support team here today.
The UK Government works closely with many different organisations in the voluntary and community sector and is committed to working in partnership with Service and ex-Service organisations, including charities, to deliver a high level of support where needed and particularly to the more vulnerable individuals in the Armed Forces Community.
Published 13 November 2015