News story
DSEI 2015: countries, territories and organisations invited by UKTI DSO to attend
Countries, Territories and Organisations invited to attend by UKTI DSO at DSEI 2015.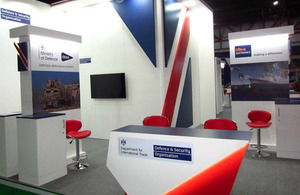 Countries, organisations and territories invited by UK Trade and Investment Defence and Security Organisation (UKTI DSO) to attend Defence and Security Equipment International (DSEI) 2015.
Those not attending have been marked with *
Algeria*
Angola
Australia
Azerbaijan*
Bahrain
Bangladesh
Belgium
Botswana
Brazil
Brunei
Canada
Chile
Colombia
Denmark
Egypt*
Estonia
Finland
France
Georgia
Germany
Ghana
Hong Kong
India
Indonesia
Iraq
Italy
Japan
Jordan
Kazakhstan*
Kenya
Kuwait
Latvia
Lebanon*
Lithuania
Malaysia
Mexico
Morocco
Netherlands
New Zealand
Nigeria
Norway
Oman
Pakistan
Peru
Philippines
Poland
Qatar
Romania
Saudi Arabia
Singapore
South Africa
South Korea
Spain
Sweden
Switzerland*
Trinidad and Tobago*
Thailand*
Turkey
United Arab Emirates
Ukraine
USA
Published 10 September 2015
Last updated 18 September 2015
+ show all updates
Updated list to indicate which countries, territories and organisations did not attend.
First published.