Press release
Drainage work to reduce flooding on A21 in East Sussex
Drainage work is due to begin on a section of the A21 in East Sussex to help alleviate incidents of flooding and improve safety for road users.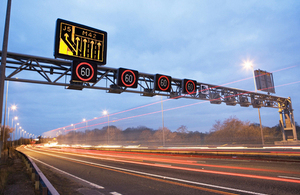 The Highways Agency is carrying out the eight-week programme between the junctions of the A229 Merriments Lane and Northbridge Roundabout, where the A21 runs through Hurst Green and Silver Hill.
The improvements, which start on 3 March, include jet washing drains, as well as repairing some broken pipes and installing new gullies and a kerb drainage system.
To carry out this necessary work safely there will need to be separate closures of one carriageway at a time with road users using the other carriageway – and being directed past the closure via temporary traffic lights. A 40mph speed limit will also be in place either side of Hurst Green. The closures are planned to be in place between 8am on Mondays and 6am on Saturdays, with the road fully reopened at weekends. If further work is required during weekends, these will be publicised in advance.
Additionally, and where possible, the closures will be removed during peak times to minimise disruption to road users.
Highways Agency project sponsor Anita Waterton said:
This work will provide smoother and safer journeys for users of the A21 in this part of East Sussex.

Users will benefit from a section more resistant to flooding and therefore less likely to impact upon journeys.

While work of this nature inevitably causes some inconvenience, we will monitor the temporary traffic lights at peak times to prevent as much disruption as possible and to quickly reduce any queues that may form

Additionally we will be carrying out noisy works mainly during the daytime to reduce disturbance for local residents.
Due to the nature of the work, onsite staff will occasionally escort road users past the closed lane at 10mph during the night. This is for the safety of road users and road workers alike.
General enquiries
Members of the public should contact the Highways Agency Information Line on 0300 123 5000
Media enquiries
Journalists should contact the Highways Agency press office on 0844 693 1448 and use the menu to speak to the most appropriate press officer
Published 27 February 2014