News story
Draft guidance on who pays Scottish Rate of Income Tax
Definition focuses on whether someone lives in Scotland - not where they work.
This news article was withdrawn on
This publication was withdrawn on 16 December 2015
This draft news story has been withdrawn as it has been superseded by a current news story and legislation.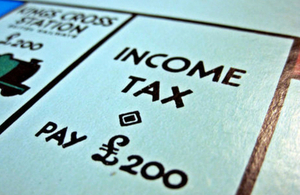 The new Scottish Rate of Income Tax (SRIT), controlled by the Scottish Parliament, moved a step closer today when Her Majesty's Revenue and Customs published technical guidance on who will need to pay the new tax when it comes into effect from April 2016.
The 19 page publication explains that it will be simple for most people to work out if they are a Scottish taxpayer as the main factor will be whether someone lives in Scotland. The guidance also looks at cases where people live, work and study in different parts of the UK and explains who will be eligible to pay the new Scottish tax.
Scottish Secretary David Mundell welcomed the progress being made on this new Holyrood power and called on the Scottish Government to set out their plans for taxpayers in Scotland.
Mr Mundell said the Scottish Government's reluctance to press ahead with fiscal autonomy could be explained by the fact that the basic rate of income tax in Scotland would need to more than double to cover the nearly £10 billion spending gap identified by the Institute of Fiscal Studies (IFS).
Secretary of State for Scotland David Mundell said:
This is another welcome step towards making Holyrood one of the most powerful and accountable devolved parliaments in the world. The onus is now on the Scottish Government to tell us what the new rate is going to be. John Swinney has already confirmed that he is considering increasing tax.

If full fiscal autonomy were ever to happen then the basic rate of income tax in Scotland would need to more than double to keep spending at current levels. Even the First Minister now accepts that fiscal autonomy would be a burden for Scotland to shoulder. They are demanding something they don't want so that they can complain when they don't get it.
The technical guidance sets out the relevant tax case law as well as short case studies explaining whether or not someone would be eligible to pay SRIT.
People have until the end of July to comment on the draft technical guidance. The Scottish Government will have to set the Scottish Rate of Income Tax this year and it will be collected by HMRC following introduction in April 2016.
The Scotland Act 2012 introduced the Scottish rate of income tax, which gives the Scottish Parliament the power to set an annual rate of income tax for Scottish taxpayers. The Scottish rate of income tax will start in April 2016.
Example 1
Throughout the whole of the tax year Sharon lives in a flat in Dumfries but is employed by a company based in Carlisle, where her office is situated. The location of your employer or where you work is not relevant to deciding whether you are a Scottish taxpayer. Although Sharon works in England, her place of residence is in Scotland, so Sharon is a Scottish taxpayer.
Example 2
Throughout the tax year, Jack is employed by an oil company working four weeks on/four weeks off, on a rig in Scottish waters. When not working Jack lives at the house that he owns with his long-term partner and children in Leicester. All of his possessions are in Leicester, his car is registered and he is registered to vote in Leicester. Jack's main place of residence is in Leicester. His family and his possessions are there and he spends all his non-working time there - he is thus not a Scottish taxpayer.
Published 12 June 2015