News story
Dr Alice Bunn appointed UK Space Agency's Director of Policy
UK Space Agency strengthens its leadership team by appointing Dr. Alice Bunn as Director of Policy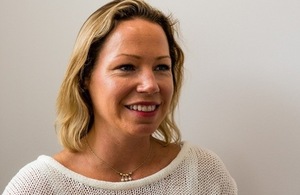 Following a competitive selection process, the UK Space Agency has strengthened its leadership team by appointing Dr. Alice Bunn as its Director of Policy.
Formerly Assistant Director of Earth Observation at the Agency, Alice took up her new appointment on 06 May 2014.
Dr David Parker, Chief Executive of the UK Space Agency, said:
I'm delighted to welcome Alice onto the Executive Board of the Agency. She is well known in the space community already and brings a wealth of knowledge and experience to this vital role. I know Alice will be a great champion for our sector. Its growth rests on a robust policy and regulatory framework at home as well as a stronger international focus. Alice is well placed to make this happen.
Dr. Alice Bunn said:
I am very excited to take up this new role at the Agency. It is a pivotal time for the sector, not least with the launch of the National Space Security Policy and Government Response to the Space Growth Action Plan last month. I look forward to working with colleagues in government, industry and academia to drive further progress for the sector.
Before joining the UK Space Agency Alice worked for the Natural Environment Research Council where she was Head of Earth Observation Future Missions (2002 - 2004) and Earth Observation Science Coordinator (2000 - 2002). Previous to that, she held the post of Researcher and Exhibition Developer at the Science Museum (1998 - 2000). Her successful career in the science sector follows a PhD in Metallurgy from the University of Cambridge (1995 - 1998)
As Director of Policy at the UK Space Agency, Alice will lead on security, regulation, statute, communications and international engagement to stimulate and drive growth and enable strategy delivery. Her primary responsibility is to provide policy advice on civil space activities to the Minister for Universities and Science, and other ministers as required.
Published 13 May 2014