News story
DPM announces Greater Manchester jobs boost
The Deputy Prime Minister has announced the creation of 300 new Greater Manchester jobs, thanks to Regional Growth Fund investment.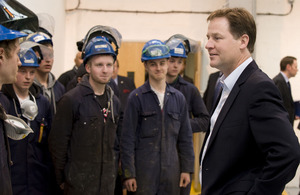 Altrincham-based The Cartwright Group, a family-run firm building trailers for brands like TNT, Royal Mail and Airbus, will be taking on the new staff after being awarded £1.9 million from the fund. Thanks to this cash injection, it has invested a further £2.9 million and the 300 new positions will include 30 new apprenticeships being taken on every year for the next 3 years.
During a visit to the firm, the Deputy Prime Minister talked about how the Regional Growth Fund is benefitting companies and creating jobs:
"The Cartwright Group has a reputation of excellence and it is great news that they are using Regional Growth Fund cash to continue to expand their manufacturing lines, including building ambulances …
"What makes this company successful is that they believe in their staff – the lifeblood of the company - and commit to a continuous investment programme in training so it can grow and bring new people to help with the development of the business. This is what the Regional Growth Fund is all about.
"There are more people in work today than there were before the financial crisis, we are close to record levels – since 2010, we have helped to create over 1.2 million jobs in the private sector, including 82,000 here in the North West."
Steven Cartwright, joint Managing Director of Cartwright, explained how the fund was helping his company grow:
"We have only just celebrated 60 years in manufacturing and the financial assistance we have received through the Regional Growth Fund will help us with our plans to take the company to the next level, developing new products and services as well as creating new jobs in order to help us to maintain our position as the UK's leading body and trailer manufacturer offering the widest range of product and related services in the industry.
"We are committed to growing the business and that will require more people in all areas of the organisation from apprentices through to senior executive roles. Our apprentices today will become our managers of tomorrow and help to create a platform to keep Cartwright at the leading edge of manufacturing for many years to come.
In the north west, the first 3 rounds of the Regional Growth Fund have invested £378 million into 75 projects, pulling in £2.7 billion private investment, creating and safeguarding 85,000 jobs over 10 years.
The 4th round of the fund, worth £350 million, recently closed, with the north west leading the applications with 58 proposals bidding for £316 million.
Read more on the DPM's work on jobs and growth on Storify.
Published 16 May 2013