News story
Domestic heating oil supplies: Written Ministerial Statement by Charles Hendry
Many households across the UK without access to the natural gas grid rely on deliveries of heating oil to heat their homes. Heating oil is also…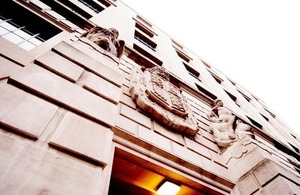 Many households across the UK without access to the natural gas grid rely on deliveries of heating oil to heat their homes. Heating oil is also used by smaller commercial customers, notably, with demand focused in the agricultural sector.
Overall, UK heating oil demand is around 3.7 million tonnes per year with domestic demand accounting for some 60%. Demand is seasonal with around two-thirds of heating oil consumed between October and March.
The recent severe weather has significantly disrupted the distribution of heating oil to customers across the UK, particularly, but not only, in Scotland. The severe weather, notably, low temperatures and heavy snow, has caused considerable disruption to road networks which has affected suppliers' ability to make deliveries particularly to more remote areas away from the strategic road network. This has resulted in delivery backlogs which suppliers have been working hard, in difficult circumstances, to reduce.
There are around 200 fuel distributors in the UK who work hard throughout the year to supply their customers. Many of these companies are small businesses, some with perhaps only 2 or 3 delivery vehicles. A tanker will make an average of 16 domestic deliveries per day covering some 180 miles to make these deliveries. The bulk of the time in making a delivery is taken up by the travel between the vehicle's base and the customer and between customers. Some larger suppliers hold their own stocks at smaller depots but others pick up from fuel terminals "off rack" purchasing product on the spot market. Modern road tankers deliver fuel to the customer's storage tank via a dedicated fuel delivery system.
Tackling this backlog is challenging for the industry at a time when, due to the cold weather, they have been facing significantly higher demand than is usual at this time of year. This challenge has been exacerbated by delays to deliveries due to the state of road network in parts of the UK, and customers bringing forward deliveries that would usually have been made in the New Year. However, prompt action to relax regulations on drivers' hours has enabled drivers to work for longer each day making more deliveries and helping to manage the backlog.
Distributors are doing all they can to prioritise deliveries to vulnerable customers and those running short on fuel. Working with DECC, the Federation of Petroleum Suppliers has issued a voluntary Code of Practice to its members to help them prioritise orders to those most in need. We are also putting in place arrangements with distributors, through the relevant trade associations, the Federation of Petroleum Suppliers and UK Liquid Petroleum Gas, for distributors to alert Local Authorities when they are aware of a risk that potentially vulnerable households will run short of heating oil. Similarly we have asked Local Authorities, and other local responders to be aware of these risks and, taking account of local circumstances, to consider what assistance they can provide to potentially vulnerable households who may need support over the Christmas and New Year period.
Hospitals do not tend to use heating oil, although a reducing number of NHS organisations are reliant on gas oil for stand-by use, fuel for generators, for boiler maintenance or dual fuel needs. Hospitals normally operate with higher levels of fuel reserves at this time of year, and, at present, we understand that there are no reported problems owing to a lack of gas oil deliveries to NHS Trusts.
The severe weather has also led to a very high forecast of demand for gas today. Last night this led National Grid to issue a day-ahead gas balancing alert for Monday 20 December at 6:28pm. The GBA Trigger level for today (20th December) is set at 452.40 million cubic metres. National Grid currently expect demand for the day will be 461.57 million cubic metres (though it should be noted this figure is constantly updated ). This figure is 97 million cubic metres above the normal seasonal demand (more than 26%). The expected demand being higher than the trigger level obliged National Grid to issue the GBA.
The Gas Balancing Alert (GBA) is a tool that National Grid use to make sure there is enough gas in the system. The GBA has the effect of signalling:
to shippers to increase supplies onto the network e.g. by increasing flows through imports and releasing gas from storage; and
to large users including power stations that they should reduce demand for gas (e.g. in the case of power portfolio generators, to switch to alternative sources such as coal.)
As such GBAs are simply a part of the portfolio of mechanisms which help the market to operate effectively. When each of the GBAs were issued last winter the market responded well, closing any potential gap between supply and demand by bringing on additional supplies and reducing demand from large users. There is currently no expectation of any disruption to domestic customers, or commercial customers unless they have interruptible contracts in place. That said we are never complacent about security of supply and National Grid continue to keep us informed as the situation develops and we are making changes through the Energy Bill to further improve the security of gas supply, by conferring powers on Ofgem to sharpen commercial incentives for the effective management of low-probability high-impact events.
The issuance of a Gas Balancing Alert by National Grid today is also a reminder of the significant efforts being made by system and network operators, shippers, suppliers, storage operators and other participants in the gas market to deliver sufficient gas to meet the heightened demand brought on by the current severe weather.
Published 20 December 2010