World news story
Discussion about Chile's higher education
Chevening scholars participate in discussion on Chile's higher education reform with Universidad Católica's President.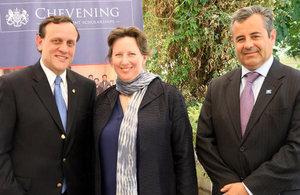 The British Embassy Santiago together with the Chile Chevening Scholars Alumni Association hosted the seminar "Chile's Educational Reform - Its scope and effects on the higher education system". The seminar was the second of a series of discussions that aim at engaging Chile Chevening scholars in the broad debate that is taking place in Chile regarding various new public policy reforms.
Her Majesty's Ambassador was present at the event to formally welcome the invited guest speaker Dr. Ignacio Sánchez, President of the Pontificia Universidad Católica in Chile.
During his presentation, University President Sánchez noted how Chile's higher education policy compares to those of other countries such as the UK, Brazil, and Finland in both the models of teaching, higher education preparation and public financing. For Chile's reform, he also commented that several factors such as student-professor ratios, university accreditation and alumni engagement should be critical factors to consider when reviewing the reform.
After the presentation, Chile Chevening scholars had the opportunity to contribute to the discussion by asking a series of questions and providing comments based on their experiences studying in both the UK and Chile.
Further information
For more information about this event, contact Heather Goodale, Chevening Officer, British Embassy, Santiago.
Visit the website of the Chevening Scholarships to learn more about the Programme.
For more information about the events and activities of the British Embassy in Santiago, follow us on:
Published 18 December 2014