World news story
Discussing perspectives of unifying court practice in Macedonia
British Embassy provides programme assistance for research and analysis on unifying court practice in Macedonia, by using UK expertise.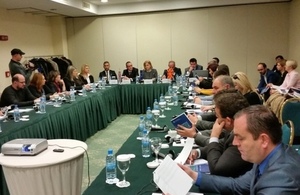 Representatives of judiciary, civil society, law specialists and media gathered Thursday to discuss the challenges and perspectives of unifying the court practice in Macedonia. The analysis is a comprehensive product of research of the Centre for Legal Research and Analysis in cooperation with the Macedonian judiciary institutions and Justice Ministry.
Our ambassador Charles Garrett shared the panel with Justice Minister Adnan Jashari and Lidija Stojkova-Zafirovska from the Centre for Legal Research and Analysis. Ambassador Garrett said:
If you work within the judicial system, this will be an opportunity to understand how you personally can help to strengthen the role of key principles such as consistency, coherence, legal certainty, predictability, transparency. But you don't have to work in the judicial system to benefit from today's event. Everyone in the country has an interest in a stronger judicial system, because it is central to building a strong democracy: one that promotes choice, voice and access to rights. The work you are doing today will touch all your compatriots.
The project is implemented by the Centre for Legal Research and Analysis in Macedonia. Throughout the project they enjoyed the cooperation with the Judicial College of London, to help bring comparative experience and practices of the United Kingdom and to share their knowledge and experience.
British Embassy Skopje runs a range of programme assistance in Macedonia providing support in range of reform areas with judiciary, human rights and democracy being at the core of our work. To find out more about our programme assistance click here.
Connect with us on Facebook or follow us @ukinmacedonia
Connect with the British Ambassador on Facebook or @BritAmbCGarrett
Read our blog UK in Macedonia
Published 4 December 2015