World news story
Director of International Agreements at the FCO visits Chile
Hugh Elliott, director at the FCO's Economic Diplomacy Directorate, will be in Santiago to discuss the UK's transition process with the Chilean Government.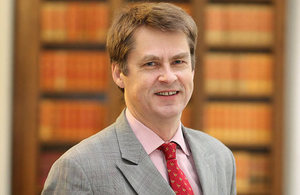 Her Majesty's Government's main interlocutor for the transition programme of EU agreements and third countries, Hugh Elliott, will be in Santiago on 18 and 19 January. During his stay in the country, Hugh will discuss the British transition process to exit the EU and explain the UK's approach to both the Chilean public and private sector.
In line with the engagement by the Department for Exiting the European Union (DEXEU), Mr. Elliott is travelling to several countries around the world to help inject momentum into the transition process with host governments, making contact with the key stakeholders in order to move the programme forward at an overarching level. While in the country, Hugh Elliott will call on Under-Secretary of Foreign Affairs Mr. Edgardo Riveros and officers of the Economic Relations Directorate of the Chilean Ministry of Foreign Affairs. He will also participate in the panel 'Economy in a Changing World' at the British Residence, as well as a meeting with EU Ambassadors posted in Chile and a working lunch with prominent Chilean businessmen and representatives of the economic sector.
Hugh Elliott joined the Foreign and Commonwealth Office in 1989. A specialist in the EU and the Hispanic world, he has served in a variety of roles in London and at British Embassies overseas, including in Madrid, Buenos Aires and Paris. From 2006 to 2013, he worked at Anglo American plc, where he was Head of Government Relations. He moved to become Director, Europe in April 2017 and moved to his current position in November 2017.
Further information
If you want to know more about this visit, contact Marianne Becker, Head of Communications, British Embassy, Santiago.
For more information about the events and activities of the British Embassy in Santiago, follow us on:
Published 17 January 2018