World news story
DFID Improves Corporate Governance in Tajikistan and Kyrgyzstan
$11m of new investment through $1.5m of DFID support.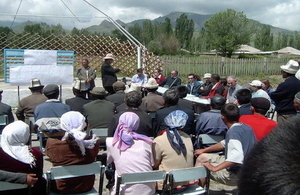 DFID's $1.5m programme to improve corporate governance in Tajikistan and the Kyrgyz Republic has already attracted over $11m in new investments. This means that the private sector in both countries is now benefiting from affordable investment and is better placed to help sustain economic growth.
Central Asia needs investments
Investment capital is greatly needed in Central Asia, but investors have been deterred by weak corporate governance practices and legislative frameworks. Diluted ownership, secret beneficial owners, weak management oversight, corruption and a lack of financial information has meant that potential investors were in the past nervous about entering these markets, and concerned that local companies may not act openly or predictably. For these reasons, DFID began working with the International Finance Cooperation (IFC) in 2011 on a corporate governance programme. We wanted to improve the operational performance of small and medium enterprises (SMEs) and banks in both countries, helping them to become more transparent, better managed and better able to attract private investment. The aim was to demonstrate a clear link between improved corporate governance in local businesses and increased investments for those businesses: in effect, to show that transparency helps growth.
Better Governance – Increased Investments
Two years on, we have seen pilot companies in both countries attract over $11m of investment, which was triple the original target. These companies secured finance at preferential rates because lending institutions could better assess the company's governance practices and determine the level of their investment risk. The programme has also provided general consulting services to non-pilot companies and banks who, by implementing the project's recommendations, have obtained investments totalling in excess of $18m.
Using Client Survey - a key project tool for pilot businesses to provide feedback on the project's impact - companies have reported that better governance has helped secure new and cheaper investment, which has in turn allowed these companies to gain comparative advantages over competitors. They have also noted improvements in areas such as operational activity, board efficiency, internal control and risk management.
The chair of Tajikistan's Banking Association, Mr. Izatullo Lalbekov said:
We understand that to reap the full benefits of the global capital market and to attract long-term capital, corporate governance arrangements must be credible, well understood across borders and adhere to internationally accepted principles.
Future aims
DFID's future work will build on the foundations laid working in three key areas, which will ensure sustainability: 1. Strengthening the regulatory framework for corporate governance in both countries; 2. Assisting 12 universities to roll our corporate governance courses as part of their curriculum; 3. Training local companies as exit partners, to provide sustainable fee based corporate governance advice to the private sector once the programme has closed.
Lack of employment opportunities is a critical issue, with some 25% of the labour force in Tajikistan and Kyrgyzstan migrating to Russia and Kazakhstan in search of employment. Their remittances - 47% of GDP in Tajikistan and 35% in Kyrgyzstan - drive economic growth, but leave the country highly vulnerable to exogenous shocks. Hence, more investment and a vibrant and expanding private sector is essential in Tajikistan and Kyrgyzstan, if they are to secure the sustained economic growth, required to address poverty and achieve middle income status. The programme complements related DFID/SECO/IFC support to improve the investment climate through wider policy and regulatory reform in Central Asia.
To find out more please contact Sobir Kurbanov or Shahlo Rahimova in DFID Tajikistan.
Published 11 September 2013