Press release
Devon doctor sees sentence increased
The Court of Appeal has increased the sentence for Suhail Ahmed from 18 months' imprisonment to 30 for voyeurism and sexual assault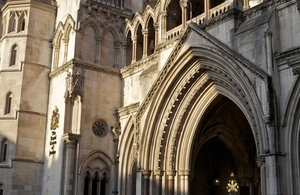 The Court of Appeal has today increased the sentence for Suhail Ahmed from 18 months' imprisonment to 30 for voyeurism and sexual assault.
The incidents of sexual assault occurred in a Devon hospital where former doctor Suhail Ahmed sectioned off patients' beds from the rest of the ward and photographed them, either without the victim's knowledge or when he told them he was monitoring their breathing. He asked them to remove more clothing than necessary for examination purposes and on two occasions he also touched them.
Footage from a secret camera hidden in the bathroom of a property owned by Suhail Ahmed's family was found on his computer.
Speaking after the hearing, the Solicitor General, Oliver Heald QC MP said:
I referred this case to the Court of Appeal as I felt the 18 month sentence did not reflect the full seriousness of the crimes committed by Suhail Ahmed.

The absolute trust which should exist between a doctor and a patient was totally violated. His actions had a severe and lasting impact on his victims, many of whom were in a vulnerable state, in pain and seeking help from the medical profession.

I hope this renewed sentence reassures the public.
Media enquiries: Russell Hayes on 020 7271 2484
Background to the case
Suhail Ahmed was a doctor at Torbay Hospital in Devon. He abused his position to take secret photographs of a number of female patients at the hospital, two of whom he sexually assaulted. In addition, he planted a video camera in the bathroom of the house which belonged to his family and secretly filmed female occupants of the house.
Published 29 January 2014