Detecting explosives by vapour in air cargo and cabin baggage
SEADM develops radically novel technology to detect explosives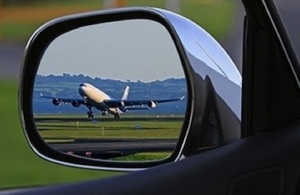 Challenge
Currently, passengers have to remove or separate a range of electrical items from their cabin baggage for effective screening at airports. This can be undesirable as it causes inconvenience for passengers, risks expensive items being damaged or accidentally left and increases the average number of screening trays per passenger. The result is reduced passenger throughput and increased queue time.
In collaboration with the Department for Transport and the Home Office, the Defence and Security Accelerator (DASA) launched the "Future Aviation Security Solutions programme" aiming at improving aviation security by funding and supporting the development of innovative science and technology. The programme had a specific chapter for cargo and hold baggage, addressing some of the current challenges of related inspection techniques in terms of reliability and confidence, throughput, automation and costs. SEADM's proposal to use its vapour technology for the detection of explosives in air cargo led to DASA funding of £80,668 in the first phase.
Rafael Cuesta, SEADM, PhD said:
The funding and support we received from DASA has meant we've been able to develop a radically novel technology for the detection of explosives in cargo nearly to a pre-commercial status.
In Phase 2, DASA set out to find and fund capabilities with the potential to speed up the detection process of explosives concealed in electrical items. Innovative proposals were sought to aid the effectiveness of the detection process and seeking ideas for portable capabilities for on the spot checks as well as to integrate with existing technology, such as x-ray systems at static check points.
Solution
SEADM is the worldwide leader in vapour detection of explosives. SEADM recently set the absolute worldwide record of limit of detection for explosive vapour, 0.01 parts per quadrillion, which is equivalent to a one drop of water in 100 Olympic swimming pools. This performance enables their systems to detect concealed explosives with unparalleled efficiency and reliability.
The unique advantage of this method is its molecular character and its sensitivity; thereby each explosive substance is detected following a specific routine, up to ultra-trace level. X-ray, on the other hand, is simply based upon the identification of shapes, whereas explosives can be moulded to any shape and size. SEADM took at two pronged solution approach:
The EFFEX project is a radically novel system for the detection of concealed explosives in air cargo by means of vapour sensing. The system overcomes the serious drawbacks of current technologies (mainly X-ray and paper swabbing), offering users greatly enhanced probability of detection and reduced false alarm rate. The technology is SEADM's proprietary, Differential Mobility Analysis, (DMA), which has been long proved in collaboration with the main air security agencies worldwide. EFFEX evolves this technology to build up a unique architecture, which mimics the reference analytical instrument for trace detection, the triple quadrupole mass spectrometer, at a substantially reduced size and price.
TEXION project pursues the development of the first cabin luggage screener to detect hidden explosives in electrical items without the need of taking them off of the luggage. As in EFFEX, the detection is accomplished by vapour using DMA proprietary technology. A first phase has been completed, focused in the sampling and capturing of vapours emanating from the explosives. A second phase is being pursued where the sampler will be connected to the Analyzer and the whole system will be tested at nearly operative conditions.
Benefits
There is the potential to revolutionise cargo and cabin baggage screening. Early results are expected to show greatly enhanced probabilities of detection, a reduced false alarm rate, whilst improving passenger throughput.
Next Step
SEADM is currently seeking possible commercial alliances.
Contact
Published 17 January 2019