World news story
Designing world class solutions for Egyptian schools
The British Embassy convenes world education experts to design world class solutions for Egyptian schools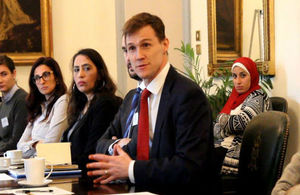 On Monday 30 January, the British Embassy in Cairo opened a three-day workshop on education, co-hosted with global experts from Delivery Associates .
The workshop brings together leading Egyptian and international education thinkers to scope new opportunities to strengthen early childhood education, teacher training, and the role of non-state actors in education.
The UK is the considered the 'education nation' for Egypt, with scholarships for hundreds of students at Masters and PhD level, deep partnership between Universities, and teacher training programmes for 30,000 teachers through the British Council.
This new event aims to discover new ideas and build new consensus in Egypt about the road to seeing world class education for Egyptian children. Delivery Associates is the leading public sector advisory group focused on implementation of large-scale reform and establishment of delivery units.
The workshop will be attended by various actors in the Egyptian education sector including Ministry of Education, the NGO community, concerned international organisations like UNICEF, research and academic institutions, and education experts from the UK.
British Ambassador to Egypt, John Casson, said:
The UK is Egypt's ideal partner in education. Now, as well as scholarships and university partnerships we want to help catalyse debate and set the right blueprint for education reform to transform Egypt's schools. The topics discussed in this workshop have been identified by our Egypt's institutions and experts as priority areas and we are proud to see so many Egyptian and British experts working together to tackle the key challenges for Egypt - especially early childhood education.
Delivery Associates Expert, Zaheera Somaar, said:
Delivery Associates is a leading public sector advisory firm committed to transforming the quality of systems and drive ambitious improvements in citizen's outcomes. We have been and are committed to partnering with the UK Government/ FCO to support their work in Education within Egypt.
Published 30 January 2017