Deputy Prime Minister's video message for Ramadan 2012
The Deputy Prime Minister has recorded a video message to mark the beginning of the holy month of Ramadan.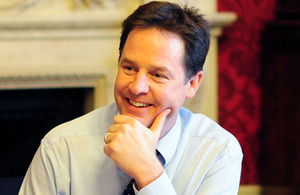 The full transcript of the video message is below.
Salaam alaykum,
Once again, as we approach Ramadan, the eyes of the world are on the Middle East. A year in from the Arab Spring, the people of Syria are still suffering as the conflict with the Assad regime escalates.
As the British Government does all it can to work with the international community to help the people of Syria, citizens of all faiths and none are united in the spirit of hope and solidarity as they watch the awful events unfold.
This spirit will be particularly apparent during Ramadan. And every year, I am inspired by the generosity, the self-discipline and the attention to family shown by Muslims in the United Kingdom.
The important part that Muslims have played, and continue to play in British society cannot be exaggerated. I am proud of the rich and diverse tapestry that makes up our society, and I will continue to strive for ever closer ties between the communities that make our country great.
I would like to wish everyone a sincere Ramadan Mubarak.
Published 20 July 2012