Deputy Prime Minister's message to ParalympicsGB
Deputy Prime Minister Nick Clegg wished ParalympicsGB luck ahead of the opening of the Paralympic Games.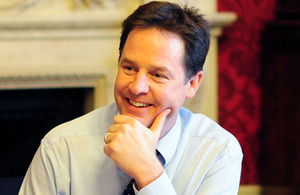 Mr Clegg said:
(check against delivery)
We find ourselves, tonight, on the brink of making history. What began in Britain 64 years ago, with sixteen World War II veterans competing in the Stoke Mandeville Games, returns tonight as the biggest Paralympics of all time. A showstopping homecoming.
Every four years the Games go from strength to strength. Capturing more imaginations. Breaking down more stereotypes. Creating more lifelong fans. 
But we want to go further, faster in London 2012: hitting fast forward to help deliver a big and lasting elevation of disability sport.  If 1948 was the birth of the Paralympic movement, let 2012 be a milestone in its journey.
These Games have had the same organising committee; they'll happen in many of the same venues; Paralympians given the same support as Olympians.
The next eleven days will be all about incredible sport. ParalympicsGB came second in Beijing with 102 medals - including a phenomenal 42 golds - and the target for London 2012 is even higher.
So we are extremely ambitious for this event. All that is left is to wish ParalympicsGB the very best of British luck. I hope you all have a fantastic night and a fantastic Paralympic Games.
Published 29 August 2012