News story
Deputy Prime Minister's meeting with Duwayne Brooks
A spokesperson for Deputy Prime Minister Nick Clegg made a statement about his meeting with Duwayne Brooks today.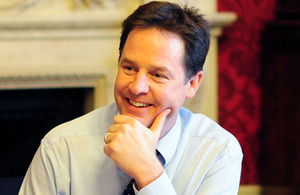 A spokesperson for the Deputy Prime Minister said:
The Deputy Prime Minister had a constructive meeting with Duwayne Brooks and his lawyer, Jane Deighton.

He expressed his admiration for Duwayne's long-standing commitment to holding the police, and the government, to account over the events following the tragic murder of Stephen Lawrence.

It is right that Duwayne and the Lawrence family get answers to very legitimate questions, and that they have confidence in the investigation into these allegations. The Deputy Prime Minister agreed to raise the issue with the Home Secretary and to discuss the release of the documents by the Metropolitan Police that Duwayne is anxious to see.
Published 5 July 2013