Deputy Prime Minister's Diwali greetings
In a message to Hindus, Sikhs and Jains, the Deputy Prime Minister has sent greetings for Diwali, the festival of lights.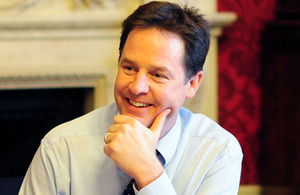 Mr Clegg said:
As well as the great shows of colour that brighten streets around the world at this time of year, Diwali is also a time of great charity, from which we can all draw inspiration.
The Deputy Prime Minister also recognised the invaluable contribution of Indian culture to Britain:
Indian culture is now inextricable from the British way of life, and the contribution of the Indian community to our business, culture and the military is unassailable.
The power of togetherness to overcome uncertainty an important message, especially in these straitened times, and I hope you all enjoy your Diwali celebrations. Saal mubarak.
Published 26 October 2011