Deputy Prime Minister visits Aquatics Centre for an official Olympic Games test event
Deputy Prime Minister Nick Clegg today made a visit to the Aquatics Centre on the Olympic Park for an official Olympic Games test event.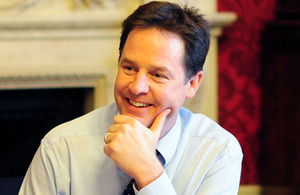 Mr Clegg met with Paul Deighton, CEO of London 2012; Tim Barnett, Manager of the Olympic and Paralympic News Service for Aquatics;  Gabriel Marin, Sheffield Hallam University student; Karen Pickering, former athlete and member of Locog Athletes Committee; Kim White, High Performance Manager for Diving - British Swimming  and athletes' families.
The Deputy Prime Minister said:
Being here in the aquatics centre - my first visit to a real event on the Olympic park - is incredibly exciting.
The sight and scale of the Olympic park is simply thrilling and I have no doubt it will be the envy of the world later this year.
It's just a few months to go until London becomes the centre of the world's attention.
Today, the diving test event will hopefully see lots of Britain's top divers qualify for the real deal in the Summer.
It's a real buzz to be here as the athletes warm up and the crowd gets going.
What strikes me about London 2012 is the innovation - transport links upgraded, new leisure facilities and shops, jobs for local people - everything designed to make sure that once the adrenalin rush of the Games has gone, Londoners will continue to benefit.
Just a moment ago I was at an almost-finished brand new Holiday Inn across the road, creating brand new jobs in the capital.
Intercontinental Hotels have announced 3,000 new jobs in the UK over the next three years.
But more importantly, the hotel chain are investing in young people's futures by teaming up with local colleges to offer accredited training in hospitality - so that young people are ready for work, and have the skills to match.
The story is the same across the Olympic park - businesses have been boosted, jobs created, and new homes built. 
All of this has been achieved with the environment in mind - cutting edge green technology has been pressed into action around the Park.
But my main message is good luck to Team GB - for today and for the rest of 2012, our Olympic year.
Published 22 February 2012