Deputy Prime Minister unveils more help for poorest under government home improvement scheme
11 April 2012 The Deputy Prime Minister has announced that at least £540 million of the government's home energy efficiency programme - worth…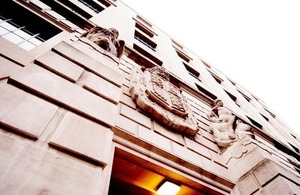 11 April 2012
The Deputy Prime Minister has announced that at least £540 million of the government's home energy efficiency programme - worth £1.3bn per year - will be targeted at helping the poorest.
In a speech to leading environment and industry figures in London, Nick Clegg revealed the support will protect the poorest and most vulnerable in society, including people in deprived areas, from rising energy bills by upgrading their homes so that they are cheaper to heat for good.
The Green Deal is the government's plan to upgrade the nation's hardest to heat homes at no upfront cost. Where the cost of the work outweighs the savings, or people need extra financial help, energy companies will be able to step in to top up the loan under the Energy Company Obligation.
In his speech, Nick Clegg said:
"We will be requiring the energy companies to provide an estimated £1.3bn a year of support for energy efficiency in our homes with at least £540m to fund energy saving improvements in the worst off homes.
"It is shameful that the UK still has so many families unable to heat their homes. By delivering lasting improvements, each year this money will help 180,000 of the poorest households make their homes cheaper to heat for good."
Alongside discounts on energy bills, the Winter Fuel Payment and financial support if it gets really cold, the Energy Company Obligation will be available to help the fuel poor heat their homes to a healthy level more affordably by installing insulation or new boilers. The recently published Hills Review found targeted energy efficiency policies are the key to effectively tackling fuel poverty.
The Energy Company Obligation will now target support, worth an estimated £540m every year, to fund energy saving improvements in the worst off households.
This includes:
Around £350m a year to deliver heating and insulation measures to around 270,000 low income and vulnerable households by 2015, helping them to heat their homes to a healthy level and demonstrating our commitment to tackling fuel poverty. This will focus assistance where fuel poverty rates are highest, and ensure help is available for those most in need.
In light of responses to the recent public consultation on the Green Deal we are considering ways to provide more targeted support for the lowest income homes. This could mean that for those living in the poorest areas, including in social housing, specific support worth around £190m a year will be available from the energy companies to upgrade homes and flats with loft and cavity wall insulation, as well as other insulation measures, to make them warmer and cheaper to run.
Also:
Increase the eligibility criteria for the Affordable Warmth element of the ECO, for example to include low income households on working tax credit so that more fuel poor families can be helped.
A large proportion of the Energy Company Obligation will still be targeted at solid wall insulation, but support will be opened up for more measures than before - including hard to treat cavity walls. And where solid wall or hard to treat cavity insulation is being installed this can be accompanied by other measures which reduce heat loss from a property, such as glazing and draught proofing.
Energy companies will be allowed to carry forward overachievement against their targets under the current Carbon Emissions Reduction Target (CERT) and Community Energy Saving Programme (CESP) and count it towards their ECO targets.
These changes will help smooth the transition for the insulation industry between current schemes and the Green Deal. We will continue work with this industry to see if there is more we can do to help them manage the impacts of the transition.
Notes to editors:
Published 11 April 2012