News story
Deputy Prime Minister speaks on breaking the cycle of crime
Nick Clegg gave a speech on crime and rehabilitation, pointing to successes in reducing crime and breaking the cycle of crime.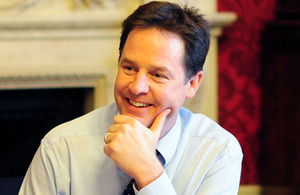 The Deputy Prime Minister also announced that a £7 million package of support for VCSEs would be open to rehabilitation organisations, speaking today at Nacro, the UK's largest crime reduction charity.
Highlighting the importance of tackling crime effectively, the Deputy Prime Minister (DPM) said:
Ensuring people are free from crime and free from the fear of crime is essential to the foundation of every liberal society. And it's why tackling crime effectively is central to our party's vision of a Britain where everyone can get on in life…

Under this government, crime is at its lowest levels since independent records began. That's fewer homes burgled and possessions stolen. Fewer communities blighted by vandalism. And fewer people hurt, or killed in violent attacks.

This continuing fall in crime is one of the biggest untold success stories of this coalition.
He also spoke of the costs of reoffending and the importance of breaking the cycle of crime:
Every year, reoffending costs our economy around £10 billion. Almost half of those leaving prison are reconvicted within a year…

So be tough on crime, sure. Be tough on the causes of crime, yes. But none of it matters unless you are also tough on breaking the cycle of crime. As a society, we want a justice system that punishes people where it must, but also seeks to change people where it can.
To help do this, the DPM announced a package of tailored support to help fledgling mutuals and smaller rehabilitation organisations:
This includes access to around £7 million worth of funds to help these groups bid and support their work in communities. This is in addition to the £10 million mutuals support programme, which is open to probation staff.

We are also making available to these groups valuable financial tools, legal advice, coaching and training and a network of peers and expert contacts to help take them through the bidding process.
Read the full transcript of the Deputy Prime Minister's speech.
Published 20 May 2013