Deputy Prime Minister Nick Clegg meets ONE campaign
The Deputy Prime Minister met with Bono and the senior leadership of ONE to discuss transparency in the extractive industries.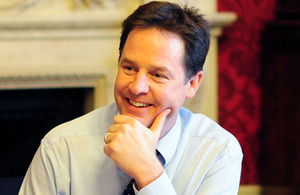 Deputy Prime Minister Nick Clegg said:
For far too long, the world's poorest people have seen no benefit from the vast natural resources in their own backyards.

It is time to end the injustice where ordinary people are silent witnesses, left to suffer without basic services, as the profits from their countries' assets are hidden and plundered by corrupt regimes.

There need to be strict new rules about how payments to developing countries from the oil, gas and mining industries are recorded. Shining a light on where this money is actually going will help people hold their governments to account over how this money is actually spent.

The United States Government has raised the bar by publishing tough new rules that will apply to US listed companies. The European Union must now follow suit and the Coalition Government will be pushing for those rules to be matched in Brussels.

Next month's meeting offers an historic opportunity for Europe to take a big leap forward in fighting corruption on behalf of some of the poorest people in the world.

The best way to minimise the impact on business, while simultaneously increasing transparency and cracking down on corruption, is to ensure that the EU introduces rules similar to the high standards already introduced by the US.

I would like to pay tribute to ONE, to Bono's energy and leadership and to the thousands of ONE members across the world who have campaigned tirelessly to keep this issue on the agenda.
Business Minister, Jo Swinson said:
Millions of people in developing countries languish in poverty while their corrupt governments squander or hide large payments from foreign companies.

Strong EU action to create a new global standard for transparency in the extractive industry can help these citizens hold their governments to account. I'm determined that the UK will play a leading role within the EU to make the most of this opportunity.
Notes to editors
The Deputy Prime Minister and Business Minister Jo Swinson met this morning with Bono and the senior leadership of ONE to discuss transparency in the extractive industries.
Photos of the meeting are available from PA/Getty and on www.flickr.com/cabinetoffice
Jo Swinson is Parliamentary Under-Secretary of State for Employment Relations and Consumer Affairs. Her portfolio includes corporate governance and business law, including accounting. 
The US Securities and Exchange Commission published its new reporting rules for all listed extractives companies in August 2012. The rules will require project level reporting, set a lower threshold of US$ 100,000, and exclude any exemptions from reporting.
The European Presidency, Parliament and Commission will enter into a series of discussions, known as trialogues, to seek compromise on amendments to the Accounting Directive. These discussions are provisionally scheduled to start in November, with an objective to agree a text for first reading by the end of the year.
Published 11 October 2012