Deputy Prime Minister message for Diwali 2012
The Deputy Prime Minister has recorded a video message to mark Diwali.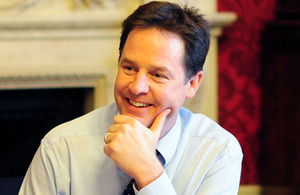 Nick Clegg message for Diwali 2012
The full transcript is below.
This week Diwali will be celebrated by millions of people around the world and by millions of people here in the UK…
The great festival of light, Diwali is a time of charity, togetherness and enjoyment.
Of new challenges and new beginnings…
I'd like to take this opportunity to give thanks to the Indian community in the UK - whose rich culture forms an integral part of modern, vibrant Britain.
I hope you all enjoy your Diwali celebrations and have a fantastic festival.
Published 13 November 2012