Deputy Prime Minister meets Palestinian Prime Minister Fayyad
Deputy Prime Minister Nick Clegg today met Palestinian Prime Minister, Dr Salam Fayyad.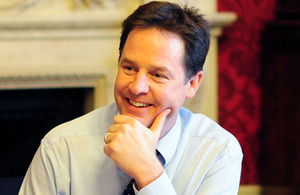 During his visit, Dr Fayyad also met the Secretary of State for International Development Andrew Mitchell, and FCO Minister for the Middle East Alistair Burt.
Following their meeting, the Deputy Prime Minister said:
I am delighted that Dr Fayyad has been able to visit London on this historic day for the UK. We warmly welcome him and the Palestinian Olympic and Paralympics teams and we wish them success in the games.
Dr Fayyad and I discussed the situation in the Occupied Palestinian Territories and agreed on the urgent need for progress in the Middle East Peace Process. This would be strongly in the interests of Palestinians, Israelis and the wider world. I encourage the Palestinians and the Israelis to restart negotiations that will deliver progress, not just talks.
I congratulated Dr Fayyad on the Palestinian Authority's progress in statebuilding and assured him of the UK's strong and continued support. We discussed the need for all donors to provide predictable and consistent funding to allow this work to continue. I welcomed the municipal elections announced for the West Bank and Gaza Strip and said the UK looked forward to legislative elections across the Occupied Palestinian Territories as soon as possible.
I also reiterated to Dr Fayyad the Government's serious concern at Israeli human rights violations in the OPTs, including demolitions of and evictions from Palestinian homes, restrictions on freedom of movement and the continued stifling of the Gaza economy. We agreed that the threatened demolition of entire villages in the southern Hebron hills, by Israel, is utterly unacceptable.
I also stressed the UK's particular concern over continued Israeli settlement construction. This is illegal under international law, an obstacle to peace and should stop immediately - in line with Israel's own commitment under the 2003 Roadmap.
Earlier today in his meeting with Dr Fayyad, Andrew Mitchell, Secretary of the State from Department for International Development, reiterated the UK's support for the Palestinian Authority's statebuilding and service delivery efforts, and for Dr Fayyad's personal efforts in this regard. UK aid to the Palestinian Authority will help immunise around 2,000 under-fives against measles, support 5,700 children through primary school and provide cash transfers for 7,000 of the poorest people each year up to 2015.
Mr Burt and Dr Fayyad also discussed support the UK had provided for the Palestinian Paralympic Team, in particular the close co-operation between the British Consulate General in Jerusalem, the Palestinian Authority and the Israeli government to enable athletes from Gaza to visit Jerusalem for the first time. In the meeting Mr Burt emphasised that the London Paralympics will be the most accessible and integrated of all time.
Published 27 July 2012