Deputy Prime Minister marks Passover
Deputy Prime Minister Nick Clegg has recorded a video message for Passover.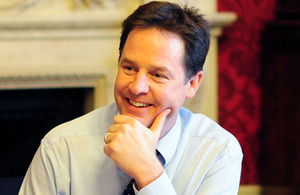 Read the full transcript below:
I'd like to wish Jewish communities across the UK a very happy Passover.

I know how much this festival means to families up and down the country, and the very special experience of different generations coming together around the table to remember the Exodus from Egypt. And the feeling of pride when the youngest in the family sings the Ma Nish Tunna.

I know that Passover is also a time for reflection, a joyous celebration of freedom from slavery. For everyone who is celebrating Passover, I wish you Chag Sameach.
Published 5 April 2012