Deputy Prime Minister marks Chanukah
Deputy Prime Minister Nick Clegg has wished Jewish communities a happy Chanukah.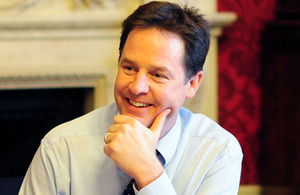 In a video message, he said that as well as it being a time for celebration and feasting, it was also important to reflect on the resilience and courage of the Jewish people cherish religious freedom.
The Deputy PM said:
I would like to take this opportunity to wish the Jewish community a very happy Chanukah. This is a time for feasting, for celebration, for family and especially for children.
But it is also a moment to pay tribute to the resilience and strength of the Jewish people; a reminder of the great courage Jews have shown in the face of oppression; a moment to reflect on the timeless importance of tolerance and religious freedom - values we cherish in Britain today.
So to all of you taking part in the festivities, I sincerely hope you enjoy them and, once again, happy Chanukah.
Published 1 December 2010