Deputy Prime Minister lends support to Daybreak's 'Donate a coat' campaign
The Deputy Prime Minister appeared on ITV's Daybreak this morning in support of their 'Donate a coat' campaign.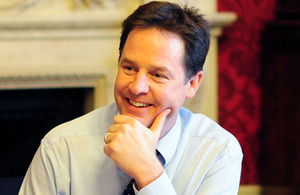 The campaign asks viewers to give their unwanted coats to help thousands who struggle to afford winter clothing - in particular the homeless, the elderly and low-income families.
The campaign is being run in close association with the Salvation Army, who are organising drop-off centres and distribution of the coats.
The Deputy Prime Minister said:
Winter can be a difficult time of year for many people and this campaign will help to make a real difference to them. It's an incredibly simple way for people to help those less fortunate than them and a fantastic idea.
Published 23 November 2011