Deputy Prime Minister hails country's first Technology and Innovation Centre
Centre to drive growth and help industry capitalise on the UK's world class research.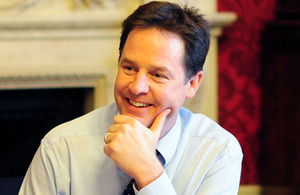 Business Secretary Vince Cable and Deputy Prime Minister Nick Clegg have announced the UK's first Technology and Innovation Centre to drive growth and help industry capitalise on the UK's world class research.
The announcement is a key part of the Government's Growth Review, targeting the expansion of Britain's manufacturing sector and positioning the UK as Europe's leading exporter of high value goods.
The High Value Manufacturing TIC will be formed from a group of research and technology facilities from across the country, including Rotherham, which the Deputy PM and Vince Cable are visiting today.
It will provide an integrated capability and embrace all forms of manufacture using metals and composites, in addition to process manufacturing technologies and bio-processing and will draw on excellent university research to accelerate the commercialisation of new and emerging manufacturing technologies.
This is the first of an elite network of Technology and Innovation Centres that will be established by the Technology Strategy Board with over £200m of Government investment overall. Other centres will be founded and announced in due course, each in technology areas of high growth potential. 
Nick Clegg said: 
The announcement of the first Technology and Innovation Centre is a major early milestone in our ambition to rebalance the economy. It will bring significant benefits to Rotherham, Teesside, Glasgow, Coventry, Warwick and Bristol, and to the country as a whole. I believe that the UK should be at the forefront of science, engineering and manufacturing, and the £200m we have committed to centres like this over the next four years is a symbol of the Government's commitment to supporting this.

I am confident that the High Value Manufacturing Technology and Innovation Centre will blaze a trail for British industry, showing how our country's hard work, invention and expertise can be exploited to lead us through the economic recovery into a prosperous future. 
In a speech tonight in Sheffield, Mr Clegg will say that manufacturing is "absolutely central" to the Government's vision for the future of the British economy.
The UK already has many manufacturing success stories. But a great deal of potential remains untapped. For too long we failed to fully capitalise on our historic talent for building and making things.
Further information
The government also announced additional support for manufacturing today. 
an extra £7million so that the Manufacturing Advisory Service can specifically focus on supply chain development. This is in addition to the £50m, already announced for the delivery of MAS over the next three years.  The reformed MAS will be available from 1 January 2012, three months earlier than originally planned. The new service builds on the current expert support and will aid manufacturing growth by enabling increased productivity and innovation. 
nine new university-based Centres for Innovative Manufacturing are to be established with Government funding of £45 million through the Engineering and Physical Sciences Research Council (EPSRC).  These new centres will combine inventive research and business acumen to develop the sorts of innovative ideas taken forward to commercialisation through Technology and Innovation Centres. 
new Fellowships offering up to 5 years of support for researchers who have the potential to be future manufacturing research leaders in their field. The Fellowships will support academics who have recently moved from industry, or people in industry, involved in innovation, looking to move into academia. 
Read more: Government boosts UK manufacturing
Published 17 March 2011