Deputy Prime Minister: energy bills could fall for millions
Landmark deal for consumers agreed between the Coalition Government and major energy suppliers.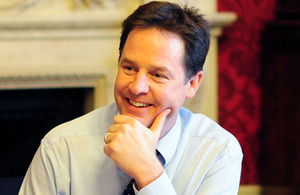 Millions of people, who may be paying more than they need to, could have their energy bills cut thanks to a landmark deal for consumers agreed between the Coalition Government and all the major energy suppliers, Deputy Prime Minister Nick Clegg will announce today.
The commitments secured by the Coalition Government will mean that the big six energy companies - EDF, E.On, British Gas, Southern, Scottish Power and NPower, who supply 99 per cent of British homes with energy - will now write to customers every year to specifically tell them what the best tariff is for them and how to get it. Some vulnerable customers - those assisted by the Warm Home Discount scheme - will be contacted twice a year.
Customers will also be offered the best tariff if their contract comes to an end and if they contact their supplier at any time to ask.
There are more than 120 different tariffs. Currently, seven out of 10 people aren't on the best tariff for them. The average customer tends to stay on theirs for years, despite the amount of energy they use varying over time. In 2010, 75 per cent of people did not change their tariff.
The Government wants people to save money on their bills whilst also becoming more switched on to the idea of saving energy through green measures to make further savings and protecting the environment.
At a speech at 'Canary Wharf's greenest building', the KPMG headquarters, Deputy Prime Minister Nick Clegg is expected to say:
We need to get bills as low as possible. I know that many families are struggling with rising energy bills. We can't control volatile world energy prices. But we can still help people get their bills down.

So I can announce today that we have secured a landmark deal with the six big energy companies who cover 99 per cent of customers, to give customers a guaranteed offer of the best tariff for them.

Right now, seven out of 10 customers are on the wrong tariff for their needs, so are paying too much. Yet people rarely switch, despite the fact some families could save up to £100 a year. There are currently over 120 different tariffs, making it very difficult to know where to start.

That is going to change. As of this Autumn, your supplier will have to contact you with the best tariff for your needs. And if you call them, they'll have to offer you the best deal too.

We're also working with energy companies to put special barcodes on energy bills. You'll be able to scan them with your smartphone to get quotes and switch tariff or supplier in a matter of minutes.

Plus we're working with consumer groups to make it easier for people to club together and switch supplier. Consumers will be able to use their collective purchasing power to bring down bills.

We want to see consumers saving money and engage with the energy they use. Precisely the kind of thrift that is good for pockets as well as the planet.
Bills can be further reduced with energy efficiency measures such as installing loft and cavity wall insulation - which the Government requires the big energy suppliers to help households with and provide free to some of the most vulnerable consumers.
The best tariff offer is part of a package for consumers agreed between Government and the major energy suppliers which also includes:
Investigating putting barcodes on bills which, when scanned by a smartphone, will allow customers to find quotes and online switching.
Big Energy Week 2. Energy companies will provide support for a second Big Energy Week coordinated by Citizens Advice.
Outreach events in communities will connect consumers, particularly the vulnerable, with sources of help with their bills. This will build on the success of the first Big Energy Week in January this year.
The companies also confirmed their commitment to simplifying their tariffs and supporting collective switching, where customers switch together as a group to get the best deal.
Notes to editors
1. Suppliers will provide a second tariff communication each year for Warm Home Discount Scheme Broader Group customers (who receive a discount by law from their suppliers when meeting the suppliers own criteria as approved by Ofgem e.g. including those on a low income with a disability, long term illness or with young children) and appropriate Warm Home Discount Scheme legacy customers (currently receiving social or discounted tariffs).  This will be a total of around one million customers a year.
2. In his speech, the Deputy Prime Minister will also say:
Greening our lifestyles and decarbonising our economy is the right thing to do, economically speaking. But, for millions of people, it doesn't always feel like the easy thing to do, especially now.

However, while sceptics say that it's all too difficult at a time of deep fiscal consolidation and that economic uncertainty poses too many challenges, I say periods of economic reinvention force us to do things differently. I say that lean times can be green times too.

Just think about today's Britain: a nation burned by its excesses, paying the price for years spent living on borrowed time and borrowed money. A nation turning the page on a culture of reckless consumption where we sacrificed tomorrow to get-rich-quick today. A nation thriftier, more frugal, more careful than before, determined to clean up this generation's mess and leave a better legacy for our children.

We are undergoing a profound transformation within our economy. And for the first time ever our economic and environmental mantras are exactly the same: waste not, want not. 

Whether it's waste of energy, waste of money, waste of our potential, we are focused on conserving our precious resources - something the people in this room know a lot about. Responsibility, sustainability are the watchwords of the day. And that creates a unique opportunity to put environmental thrift into the mainstream.

As we learn to live within our economic means we can learn to live within our environmental means too. To do that, we have to stop treating the environment like an add on; an afterthought. We must show that, in so many ways, consumer interests, business interests and green interests are the same.  We have to give people the practical help to make more sustainable choices. We must do everything we can to ensure that the benefits and opportunities created by going green are clear.

[…]

The UK still has some of the most energy inefficient buildings in Europe. Fifteen million homes - more than half - are not properly insulated. That's costing us in carbon: a third of our emissions come from heating our homes. And it's costing us in pounds: adding hundreds of pounds, every year, to bills for the most inefficient homes.

So the case for saving energy is compelling. It fits perfectly with the waste not, want not mentality visible in homes across the country. But we can't just preach at people. It does no good to simply demand everyone turns off their lights.  We need to understand why, when the longterm benefits are so clear, we still use more energy than we need. And we need to remove the immediate obstacles that can put people  off.

One problem is the hassle factor.  Of course, there's only so much Government can do here. And making home improvements can be temporarily disruptive. But there are ways to minimise that disruption and we are working with business to test some innovative solutions.

For example, we've been working with B&Q and Sutton Council to see if offering a loft clearance service makes a difference. B&Q clear your loft for you, you go through your belongings while they install the insulation, they put back the things you want to keep and everything else gets taken to Cancer Research shops to be sold.

The first trial found that people were three times more likely to go for this than straight insulation.

Another problem is awareness. Very few of us really know how much energy we use, yet very small changes to the way we receive that information can make a big difference. That's why, for example, we have replaced the extraordinarily confusing Energy Performance Certificates with a much clearer document which shows, very simply, the cost of fuelling your home and the potential savings of using less energy.

And, from the summer, we'll be trialling a new project with First Utility and America's OPOWER, where consumers are told how much energy other, similar households use.  Working with US utilities, OPOWER has helped encourage American households to reduce consumption by around two per cent. That may not sound a lot, but it soon adds up. In the States, OPOWER has helped reach around 11 million homes, so far saving them around $85 million.

We want to see what the same approach could achieve here.

And, of course, the biggest barrier for many people is the prospect of expense. A new boiler costs money; so does insulation.  So this is where we are providing most help.  The Government's Green Deal will offer businesses and homeowners energy saving home improvements but at no upfront cost. 

Customers will have energy saving measures installed in their homes by trusted suppliers, from high street brands to local traders. However, they will only begin paying for those improvements once they're complete. Payment will be made through their bills, over a period of time and they shouldn't be out of pocket because their homes will be more energy efficient, allowing them to save on their energy bills each month.

We'll ensure customers are never charged more than we expect them to make back in cheaper bills'. Plus the charge is attached to the property, rather than the person. So if you move, you stop paying.

That is maximum affordability, with savings well outstripping costs.
Published 11 April 2012