Deputy Prime Minister calls for cross-party talks on political donations to begin this week
The Deputy Prime Minister set out the process for cross-party talks on reforming party funding, which he said he wants to begin this week.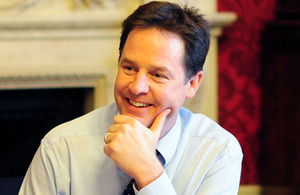 This follows an announcement today by the Minister for the Cabinet Office, Francis Maude, that the three largest parties have each nominated two representatives to take part in the negotiations. The talks between the nominated party representatives will aim to reach agreement on reforms to party funding. They will be convened by the political parties. At the first meeting, their representatives will agree ways of working, including whether or not to request factual information from the Civil Service by ministerial agreement.
Speaking from the Nuclear Security Summit in Seoul, the Deputy Prime Minister said:
Controversy about how political parties are funded has affected all parties at one time or another. The system doesn't work. We need to fix it and fix it fast, and that's why I want to see cross party talks start this week.
Once agreement has been reached on the principles of reform, the party leaders will agree how the policies should be taken forward by the Government.
Notes to editors
The Deputy Prime Minister announced at Deputy Prime Minister's Questions in the House of Commons on 2 February that he intended to write to the Prime Minister and the Leader of the Opposition, asking them to nominate two representatives from their parties to take part in talks on reform.

The Minister for the Cabinet Office made an oral statement on party funding today in which he announced that the nominated representatives are, Rt Hon Francis Maude MP and Lord Feldman for the Conservative Party, Rt Hon John Denham MP and Lord Collins for the Labour Party, and Rt Hon David Laws MP and Tim Gordon for the Liberal Democrats.
Published 26 March 2012