Deputy Prime Minister attends Olympic Munich commemoration
The Deputy Prime Minister spoke at an Olympic Munich commemoration on 6 August 2012.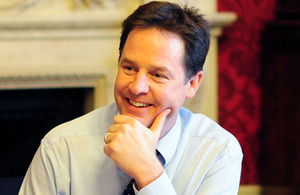 Check against delivery
(Chief Rabbi, Your Excellencies, Ladies and Gentleman)
 
In the last few weeks I have been honoured to meet athletes, trainers and supporters from all over the world.
 
It is they who make the Olympics such a colourful, dazzling international festival. A time where the global community competes ferociously. And by celebrating the very best of human achievement we are somehow drawn closer together in a spirit of friendship.
 
40 years ago that spirit was shattered when 11 Israeli athletes and trainers were ruthlessly attacked in the heart of the Olympic village. 
The world will never know the Olympic glory they could have achieved or the joy their participation would have stirred at home; we cannot measure how each of their stories might have inspired the next generation in Israel. 
We can see and feel the deep sorrow of their wives, children, family and friends. The many years of pain and the wounds that still have not healed. Their campaign for recognition and commemoration has never slowed and tonight's event is a fitting tribute to their hard work and energy.
 
But the dark shadow of terrorism has never lifted. The Israeli Olympic team showed immense courage and determination competing in the games after Munich, always aware that there are still those who would do them harm. For Israelis at home and abroad there is still the threat of terrorism. The horror of the recent attack in Burges, Bulgaria are another grim reminder that it has tragically not receded.
 
And for us here in London that dark shadow still looms. You can see it in every security cordon, the guards at each venue, the x-ray machines and the CCTV. Since that terrible day in Munich forty years ago every host nation must work round the clock to make sure history is never repeated. But our determination is stronger, our expertise more advanced and our joint efforts more unified than ever before.
 
So let us join together in a prayer of hope that at each Olympics, every time the nations of the world come together in this way and celebrate the outer limits of human endeavour we bring an era of true peace and cooperation ever closer.
Published 6 August 2012