Deputy Prime Minister asks engineers of tomorrow to consider a career in British manufacturing
Nick Clegg: "I want our young people to realise that British manufacturing is a well-paid and rewarding choice of career."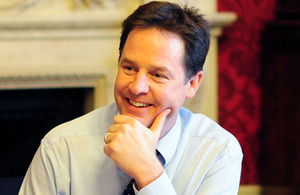 Manufacturing & the UK economy
Deputy Prime Minister Nick Clegg and Business Secretary Vince Cable have asked Britain's high tech manufacturers to throw open their doors to students and teachers to help develop the next generation of manufacturing talent, challenging the myth that Britain doesn't make anything anymore.
The UK is a world leader in making high tech products, with recent figures showing manufacturing growth at a 16 year high.
Despite this there is concern that manufacturing's outdated image affects its ability to attract the best and the brightest talent.
Nick Clegg and Vince Cable toured Brompton Bicycle factory in West London before hosting the manufacturing summit with business leaders.
The plan for a week long event, when firms would host 'open days', would give students and their teachers a better glimpse of Britain's advanced manufacturing abilities and showcase career opportunities.
Mr Clegg said:
I want our young people to realise that British manufacturing is a well-paid and rewarding choice of career. In fact many people don't realise that on average electrical engineers are almost as well paid as lawyers and solicitors.

By opening their doors to the engineers of tomorrow, factories will inspire young people to see manufacturing as a rewarding and enjoyable job. They'll see for themselves that the satisfaction of making things is hard to beat.
Vince Cable said:
I was shocked to hear that a recent survey found 49 per cent of 7 to 11-year-olds think it would be boring to be an engineer. They could not be more wrong.

That's why Government and industry agree that we have to improve the image of manufacturing if we are to attract the brightest and best into industry.

Holding a factory doors open week will help us dispel the myth about engineering jobs, and show they are challenging, exciting and well paid.
Published 25 January 2011