Deputy Prime Minister visits Wales
Deputy Prime Minister Nick Clegg vowed that Wales will be an important part of UK economic recovery during his visit on 30 September 2010.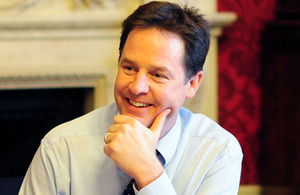 Writing in the Western Mail, Mr Clegg said that for economic growth to last it must be spread across the UK and across a range of industries rather than focused on London's "volatile financial markets".
He also emphasised the Coalition Government's desire to work with the Welsh Assembly Government to promote economic prosperity.
During his trip to Cardiff, he visited the Assembly for the first time as Deputy Prime Minister and met Welsh First Minister Carwyn Jones.
In the article, Mr Clegg said:
We believe that by supporting businesses across our nations we can help re-balance our economy away from its over-reliance on the public sector and its overdependence on London. That is no mean feat.

But if we keep ambition as our watchword we won't just help a Welsh recovery - we'll put Wales at the heart of the UK recovery too.
Later, he held a public meeting in Cardiff City Hall, hosted by radio station Red Dragon FM, where he took questions from local people on a range of topics including housing, funding for the military and plans to cut the deficit.
Read the article in the Western Mail
Published 30 September 2010