Deputy Prime Minister visits Sutton
Deputy Prime Minister Nick Clegg has officially opened a new state-of-the-art learning facility and community centre in Sutton.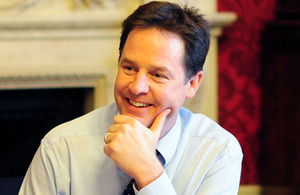 The Sutton Life Centre features an interactive learning zone which will teach children about issues such as personal safety and bullying.
Mr Clegg said Sutton, which is one of four areas taking part in a Big Society pilot scheme, was a "vanguard" for the Big Society and the centre "fits perfectly into that spirit".
The Deputy PM said:
This really fits perfectly into that spirit - members of the community young and old from different parts of the borough coming together and trying to design something which is not only very innovative, but will speak very much to every single part of the wonderful community that you represent.
Mr Clegg was shown around the centre and sat in on a lesson with pupils from a local school to discuss what they had learnt from the centre.
Published 28 October 2010