Press release
Deputy PM on Scotland: UK will always be stronger together
Nick Clegg will make the positive economic case for Scotland remaining in the United Kingdom at the Scottish Chambers of Commerce, Edinburgh.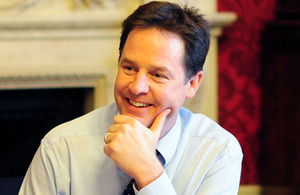 Speaking to an audience of business people today (19 May 2014), the Deputy Prime Minister is expected to say:
Today I want to set out why I believe that our nations will always be stronger together than apart, in an increasingly uncertain, fluid and interconnected world.

This is an argument of the head and the heart – a positive case built on a great shared past, and the potential of a great shared future.
Firstly, it recognises that the UK's success isn't just some lucky accident, but a direct result of the close political, economic and social ties that bind us – pulling us together as families, workmates, colleagues and partners.

And, secondly, it argues for what more we could achieve in the future.

Over the last 3 centuries, we've worked together, lived together and faced the world together.

We've created some of the most respected and enduring institutions in the world - our welfare state, the Royal Society and Edinburgh Festival.

And whether it's Adam Smith laying the foundations of our modern economy; our lawyers leading on the drafting of the Universal Declaration of Human Rights; our scientists working together to discover life-saving drugs like penicillin; or even Sir Chris Hoy racing around the velodrome at London 2012, again and again, we've blazed a trail.

We've extended our nations' reach and influence far beyond our borders and shores.

As part of a single domestic market with its view fixed resolutely outward, British products – Scottish products – have unparalleled market access, with an embassy and consular network that can promote them around the world.

But Britain abroad is not just about selling things. It's about using our size and scale as a force for good – as a strong voice in the EU, UN Security Council, NATO and G7.

That includes the UK taking a lead in global development, doing what we can as a country to help others - peacekeeping in Bosnia, humanitarian help in the Philippines and working in Nigeria, to help them bring back the kidnapped school girls.

Today's UK offers Scots a platform from which to achieve success and export the best of our common values around the world.

And the reality is that our country's ability to do that isn't undermined by our differences, but strengthened by them.

It gives our country a richness and diversity that, down the years, has fed into our culture, language, history, sport and national traditions.

It's created an incredibly powerful sense of community across the UK that means when we're in trouble or face big challenges we're there for each other.

So whether that's caring for our ageing population or stepping in to support those struggling to get back on their feet again, we have the resources to help them.

Organised crime. Terrorism. None of us are insulated against these problems now. And together, we can better protect our citizens - with cross-border police operations and the work of our intelligence services

And, as part of the UK, when we're hit with a once-in-a generation shock to our economy, with our financial sector in freefall, we know that the UK's shoulders are broad enough to cope.

We saw this 6 years ago. And, together, we've rebuilt the UK economy on the foundations of our strong, stable currency union, shared regulatory and fiscal systems and financial clout to boost the UK's competiveness.

Above all else, this is a shared recovery driven by our shared strengths – in England, Wales, Northern Ireland and Scotland.
Published 19 May 2014