Deputy Prime Minister calls for concrete action at Millennium Development Goals Summit
Nick Clegg said national leaders must draw up concrete plans to tackle maternal mortality in developing nations.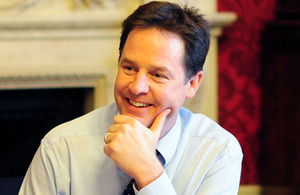 Mr Clegg confirmed that he will represent the UK at the meeting at the United Nations in September, which he described as a "huge opportunity to get the Millennium Development Goals back on track".
He was speaking following a meeting with philanthropist Bill Gates to discuss the Coalition Government's policies on international development.
Mr Clegg said:
Bill and Melinda Gates have proved an inspirational and unstoppable force in the fight against global disease and destitution. Today was only the first meeting in what will be a close and productive relationship between their Foundation and our government. I am looking forward to working closely with Bill in the run up to this crucial summit… The New York talks are a huge opportunity to get the Millennium Development Goals back on track.

With the 2015 deadline now around the corner, the time for warm words is over. National leaders have a duty to put in place a concrete plan to bring down the high death tolls of mothers, children and babies that are a blight on developing nations.
He added that the government and the Gates Foundation are committed to working together to eradicate polio and the UK will vaccinate 15 to 20 million under-fives this year in the next phase of its support.
Mr Gates said:
I welcome the UK's leadership on international development and its commitment to maintaining the nation's promise to spend 0.7% of its Gross National Income on official development assistance, despite significant challenges to the British economy. I urge other donor nations, particularly those in the G8, to follow its lead.

In the face of such challenging economic times, we must be even smarter about how resources are used and maintain our commitments to the world's poor. I commend the Deputy Prime Minister and the new government's determination to ensure that the resources of the Department for International Development are spent on programmes that focus on solutions and deliver positive results, like their work on the global elimination of polio.
Published 20 July 2010