Deputy Prime Minister attends ASEM Summit in Brussels
Nick Clegg has represented the United Kingdom at the ASEM (Asia-Europe Meeting) Summit in Brussels on Monday 4 and Tuesday 5 October 2010.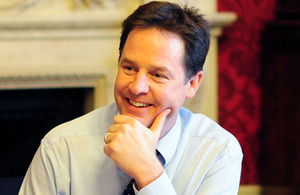 Mr Clegg attended the opening ceremony of the summit and took part in a number of bilateral discussions with European and Asian counterparts. 
The purpose of ASEM is to bring together the nations of the European Union, 16 Asian countries and the members of ASEAN to discuss areas of mutual interest.
There were four plenary sessions at the summit over the two days. These were:
More Effective Global Financial and Economic Governance 
Sustainable Development (Economic, trade, labour markets, climate change, energy security) 
Global Issues in Focus (Terrorism, non-proliferation, organised crime, reform of the UN disaster relief) 
People to People, Visibility and the Future of ASEM
At the Summit Mr Clegg called for Asian and European leaders to speak with one voice against the gross mistreatment of the Burmese people.
Writing in the International Herald Tribune ahead of the Asia-Europe meeting (ASEM) in Brussels he said:
We are now a month away from the first elections in Burma since 27 May 1990. That should give us cause to celebrate. Sadly, that is wishful thinking. Burma's 55 million people continue to suffer brutal oppression. Abject, needless poverty is, for most, a daily reality. These elections will be little more than a sham to perpetuate military rule.

So when Asian and European leaders meet today in Brussels, the UK will be calling for us to speak with one voice against the gross mistreatment of the Burmese people.
Published 5 October 2010