World news story
Deputy High Commissioner for the UK visits Ukonga Prison
In Tanzania, the Deputy High Commissioner for the UK, Mr Matt Sutherland, visited Ukonga Prison in Dar es Salaam to mark the conclusion of the piracy wing building works programme supported by UK funding.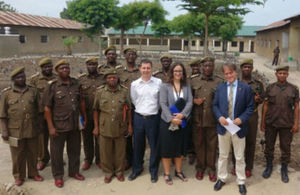 The Tanzania Prison Service was provided with materials to upgrade an area of Ukonga Prison dedicated to piracy detainees, allowing for substantial improvements to the perimeter wall, guard tower, kitchen and mess, sickbay and administration buildings as well as rehabilitation of a number of dormitories. The Deputy High Commissioner was joined by representatives from the EU. UNODC is working with the EU under the MASE programme to explore possible further support to the Tanzanian Prison Service.
Also in Tanzania, UNODC received a consignment of equipment for the Transnational Organised Crime Unit (TOCU). The equipment includes binoculars, cameras and computers, which will be used by the specialist unit in its operations. This equipping forms part of the collaborative effort with national and international law enforcement experts in establishing the TOCU in Tanzania.
In Mauritius, the retrial of the 12 suspected piracy detainees was heard on 25 January. In the hearing, a new defence council was appointed to one of the defendants and a new trial date was set for 23 February. Through funding under the EU MASE programme, UNODC provides Somali-English interpretation during trials and covers the cost of legal defence to ensure trial fairness.
In Seychelles, the MV NAVE ATROPOS case was called for judgement on 4 February. The delivery of judgement was postponed until 17 February. As in Mauritius, UNODC has provided ongoing support to piracy trials in Seychelles to ensure their fairness including interpretation and legal defence, funded in part by EU MASE.
Published 19 February 2016