World news story
Deputy High Commissioner attends Jole Riders ceremony
Deputy High Commissioner to the Gambia attends jole riders ceremony in the Gambia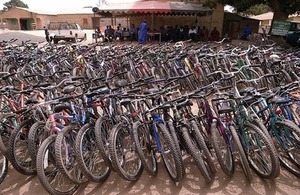 UK Deputy High Commissioner George Sherriff attended a ceremony in Gunjur yesterday, Thursday 25 July, to witness the handing over ceremony of 345 bicycles that will benefit 9 schools across The Gambia. The donations were made possible through the work of the UK charity 'Jole Rider'.
Jole Riders have been donating refurbished bicycles to schools in The Gambia since April 2006 and have donated over 12,000 bicycles so far.
Once the bikes are in The Gambia they are donated to schools through cooperation with the Gambian Ministry of Basic and Secondary Education to increase the number of children able to access education.
Commenting Deputy High Commissioner George Sherriff said -
"Jole Riders' aim to improve access to education is a noble one. One of the main barriers of ensuring attendance at school is distance and availability of transportation. Jole Riders aims to break down this barrier through providing students with a means to get to school. It compliments the work of the Government of The Gambia through the good work of the Ministry for Basic and Secondary Education in their efforts to increase the number of children that have access to education. There have been many improvements in this sector in recent years and the efforts of organisations like JOLE riders that work in partnership with local communities to meet real needs are making a huge difference to individual lives while ensuring that children get the education they deserve"
More Information on Jole Riders can be seen at –Jole Riders
Published 29 July 2013