World news story
Deputy Head of Mission visits Governorate of Karak
Deputy Head of Mission Simon Mustard meets with beneficiaries UK funded projects in Karak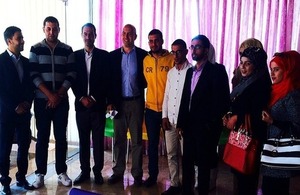 Deputy Head of Mission Simon Mustard visited Karak yesterday, 12 November. During the visit, DHM Mustard met with representatives from Radio Al-Balad and Community Media Network, and called on the Deputy President of Mu'tah University to exchange views on the education system and its challenges. During his visit to the university, the DHM also attended a training session conducted by the Business Development Centre, part of a UK funded project.
Meeting with Radio Al-Balad and Community Media Network in Karak, DHM Mustard listened to young journalists share their experiences as beneficiaries of this project. The UK funded project provides training for young journalists from different governorates on multimedia reporting skills such as shooting and editing a video. These reporters are then able to produce reports on social, economical, or political issues of relevance to their local communities.
Speaking during the visit, DHM Simon Mustard said: "I'm very impressed with the outputs of the project so far. I've listened to young journalists who were relishing the chance to debate and report on a range of social and economic issues affecting the people of Karak. This is important for Karak itself, the development of Jordan's media sector and the professionalism of journalism."
DHM Mustard later met with the Deputy President of Mu'tah University, to reiterate the UK's support to the development of the education sector in Jordan. He then took a tour around the University and attended a training session implemented by the Business Development Centre, a UK funded project that helps enhance young people's skills to support job creation in Small and Medium enterprises (SMEs). So far, the project had provided training to up to 2,586 youth from across Jordan and supported the employment of 784 people. By August 2015, the project plans to have supported the employment of 1870 youth.
Speaking after the tour, DHM Simon Mustard said: "I'm delighted that 72% of participants on BDC employability programs found jobs within 6 months and 90% of these were retained after 1 year of their employment. In addition, 68% of participants on business start up courses successfully created their own firm with an average of 4.1 jobs created per firm. These are impressive returns and show a real impact on the local economy"
DHM Simon Mustard's visit to Karak comes as part of the British Embassy outreach visits beyond the capital Amman. The Embassy regularly carries out these visits in order to better understand Jordan and to get to know all its regions.
Published 13 November 2014