World news story
Deputy Ambassador visits Gambian lifeguard training
UK charity RNLI Train 30 Gambian lifeguards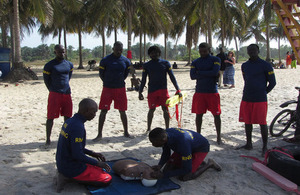 UK Deputy Ambassador to The Gambia George Sherriff this weekend visited Kololi beachfront to witness UK charity the 'Royal National Lifeboat Institution' (RNLI) training 30 volunteer Gambian lifeguards in essential lifeguarding skills and techniques.
An estimated 1.2 million people around the world lose their lives to drowning each year – that's more than those dying from malaria. The World Health Organization estimates that Africa has the highest continental drowning rate in the world. Through its international development activity, the RNLI is working with several African countries, including Senegal and The Gambia to help them save lives.
Mr Sherriff witnessed the 30 volunteer Gambian lifeguards demonstrating some of the skills and techniques they have learnt over the past week including recognising when a person is in distress; how to use rescue equipment; beach surveillance, and rescuing and treating a casualty.
Commenting after the visit, Mr Sherriff said –
'It was a pleasure to visit the RNLI trainers and the volunteer Gambian lifeguards who are giving up their time to help save fellow Gambians. I am very grateful to the RNLI for coming to The Gambia and helping develop Gambian lifeguarding skills. This training visit is just one excellent example of the many UK charities and organisations that give up their time and expertise in addition to raising many thousands of pounds each year to help Gambian communities all across the country."
For more information on the RNLI please visit RNLI
Published 17 December 2013