Department now publishing all spend over £250
Transparency trailblazers open books to lowest ever threshold The Department for Communities and Local Government has taken its transparency…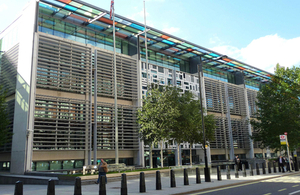 Transparency trailblazers open books to lowest ever threshold
The Department for Communities and Local Government has taken its transparency pledge to a new level by publishing all spend data over £250, Secretary of State, Eric Pickles announced today.
As part of the Government's commitment to transparency, accountability and openness, all central government departments now publish their monthly spending online.
This department has been publishing details of all goods and services spent over £500 matching the level required of councils since August 2010.
As one of Government's transparency trailblazers that is now being extended to include all transactions above a new low threshold of £250. This will mean more information on typical items such as travel expenses, publications, office supplies and mobile phone bills for the first time.
Mr Pickles encouraged any armchair auditors to scrutinise the Department's data to see at a glance exactly where taxpayers money is being spent.
The Government's transparency code for councils has already seen all local authorities publish their spending over £500 online and open every aspect of business up to public scrutiny including, tenders, contracts senior pay, councillor expenses and voluntary sector funding. The Localism Act requires local authorities to be transparent about how senior salaries are set through the publication of annual pay statements.
Local Government Secretary Eric Pickles said:
I firmly believe the more open we are about spending the more we can root out waste, avoid duplication and increase value for money for taxpayers.

Every member of the public has a right to know - and a right to challenge - how every penny of their hard earned cash is being spent by Government.

Our quest for greater transparency has led us to set a new marker in the sand - from today our books will now be open right down to £250.
Notes to editors
Detail of all Communities and Local Government and spending on goods and services - including May spend at £250 level and over £500 for the period April 2009 to May 2012 - can be found at: www.communities.gov.uk/corporate/transparencyingovernment/spenddata/.

Detail of spending on goods and services over £500 by the Department for Communities and Local Government Arms Length Bodies can be found at: www.communities.gov.uk/corporate/transparencyingovernment/spenddata/albdata/

Arms Length Bodies linked to DCLG will now also be asked to follow suit as a matter of routine at the end of each month.

To feedback ideas on DCLG's transparency spending email contactus@communities.gsi.gov.uk marking your enquiry 'transparency' in the subject line.
Published 15 August 2012