World news story
Delegation of British Academic Institutions visit Panama
A delegation of British Academic Institutions visited Panama City from 19-20 October, to increase bilateral cooperation in education.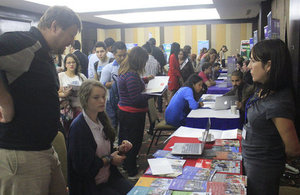 A delegation of British Academic Institutions visits Panama City from 19-20 October, setting the stage for increasing bilateral cooperation in education. The visit coincides with the Panamanian government announcement of a significant increase of the UK's share in Panama Bilingual, the flagship English training programme of Panama.
The British Embassy developed a comprehensive programme, taking in private and public universities, government ministries and agencies, and research institutions, laying the foundations for increasing student mobility between the two countries, while enhancing sector to sector engagement in areas such as research, English language training and curriculum collaboration. A local hotel, hosted the largest 'British University' fair ever organised to this day in Panama, with the participation of University of Glasgow, Edinburgh College, Leeds Beckett University, Into University, University of Edinburgh, Bradford College, University of Portsmouth, Glasgow Caledonian University, University of Leicester, Hult International Business School, Sunderland College, Edinburgh Napier, University of St. Andrews and University of Manchester.
Other activities included a well attended 'Education is GREAT' reception, hosted by HMA's Dr. Ian Collard and the Deputy Minister of Education Carlos Staff. The following day, a business lunch was organised by the British Chamber of Commerce where key note speakers from Portsmouth University and Edinburgh College, shared an education panel with Dr. Oscar Ramirez from Universidad Tecnologica and Deloitte's Partner Domingo Latorraca.
Published 22 October 2015